Chasing Glenn Beck Virtual Book Publicity Tour February 2012
Authors on Tour
,
Featured
— By
Dorothy Thompson
on January 18, 2012 at 11:54 pm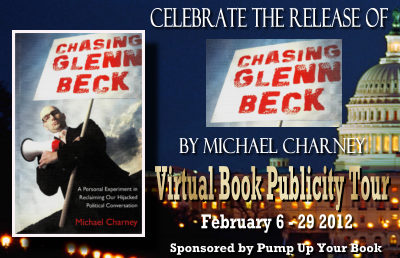 Join Michael Charney, author of the political nonfiction book, Chasing Glenn Beck: A Personal Experiment in Reclaiming Our Hijacked Political Conversation (Riddle Brook Publishing), as he virtually tours the blogosphere February 6 – 29 2012 on his first virtual book tour with Pump Up Your Book!
About Michael Charney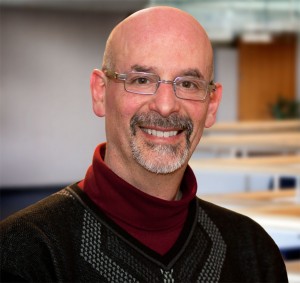 Michael Charney is a principal with Charney Coaching & Consulting LLC, where he provides expert services in the areas of team building, communications and succession management.  As part of his responsibility for social media strategy and business platform development, he also provides regular blog, Facebook and Twitter postings.
As an executive and leader he has pioneered work in corporate social networking, textual and language analysis and professional services methodologies.
In the early days of social media, he helped design and create internal corporate social systems that allowed people to build profiles, define levels of expertise, and share knowledge with virtual team members around the globe. These systems were used by such companies as Unisys, ADP and Benjamin Moore, and such organizations as Yale University.
This background provides him with an understanding of social networking culture, particularly with respect to the ways in which individuals use social networking as a personal bully pulpit. He found that, when working in corporations, the most knowledgeable and/or respected individuals were not necessarily those who dominated conversations—a phenomenon clearly seen throughout the course of his experiment in the political Twittersphere.
Michael has also taught English as an Adjunct Professor and is the author of more than two dozen short stories, essays and technical articles covering a wide range of topics including mainstream fiction, science fiction, technology, education and knowledge management. He has won awards for both his fiction and non-fiction, and has been published in both North America and Europe. Examples of his published works include:
"Punks on the Admiral," a prize winner in the semi-annual short fiction contest sponsored by Amaranth Review.
"Moths," published in Eotu and subsequently selected for their annual "Best of" issue.
"Self-Judgment: A Student Discovers the Value of the Personal Essay," an award-winning essay subsequently anthologized in Making a Difference: Personal Essays by Today's College Teachers.
"A Dialectical Model for Best-Practices Development," published in World Congress of Intellectual Capital Readings: Cutting-edge thinking on intellectual capital and knowledge management from the world's experts.
Michael has a Bachelor's Degree from U.C. Berkeley and a Master's Degree from William Paterson University, the latter in English with a concentration in Creative Writing.
Interestingly, Michael has never been all that interested in politics. At least, he didn't think so….
His latest book is Chasing Glenn Beck: A Personal Experiment in Reclaiming Our Hijacked Political Conversation.
Visit his website at www.chasingglennbeck.com.
Website | Twitter | Facebook | Google+ | Smashwords | Amazon | Amazon Kindle | Barnes & Noble Nook l Riddle Brook Publishing l Official Tour Page
About Chasing Glenn Beck: A Personal Experiment in Reclaiming Our Hijacked Political Conversation
Is Glenn Beck a liberal?
Perhaps not, but when Michael Charney decides to plant that idea out in the "Twitterverse," some interesting conversations begin. People shout at him (MORON!), block him (SCUMSUCKER!), and belittle him (WAKE UP, IDIOT!). Eventually, though, some people start to listen…
Today's political dialogue has been stolen, hijacked from us by those with the loudest voices.  Until we begin to take that conversation back for ourselves, we remain at the mercy of those with the most radical agendas, the most extreme visions for our country. The risk is great: a country run by a vociferous minority that just happens to scream louder than the rest of us is NOT what democracy is supposed to be about…
With discussions about politics, schools, national security, manifestos, the Pledge of Allegiance, the Flag Code–and the Senate's Candy Desk–Charney cuts a wide swath through the issues facing our country, a country he claims has a serious case of "Electile Dysfunction."
Chasing Glenn Beck Virtual Book Publicity Tour Schedule

Book reviewed at True Media Solutions

Tuesday, February 7
Interviewed at Examiner

Wednesday, February 8
Interviewed at As the Pages Turn

Friday, February 10
Interviewed at The Writer's Life

Monday, February 13
Interviewed at Cafe of Dreams

Tuesday, February 14
Interviewed at Blogcritics

Wednesday, February 15
Interviewed at Digital Journal

Thursday, February 16
Interviewed LIVE on Blog Talk Radio's A Book and a Chat at 6:30 p.m. eastern

Friday, February 17
Book reviewed at Hott Books
Interviewed at Literarily Speaking
Monday, February 20
Interviewed at Broowaha

Tuesday, February 21
Book reviewed at Broken Teepee
Wednesday, February 22
Interviewed at Allvoices

Thursday, February 23
Book reviewed at Libby's Library

Friday, February 24
Book reviewed at The Book Connection

Monday, February 27
Interviewed at American Chronicle

Tuesday, February 28
Guest blogging at Literal Exposure

Wednesday, February 29
Interviewed at Divine Caroline

Michael Charney's CHASING GLENN BECK: A PERSONAL EXPERIMENT IN RECLAIMING OUR HIJACKED POLITICAL CONVERSATION VIRTUAL BOOK PUBLICITY TOUR will officially begin on February 6 and end on February 29 2012. Please contact Dorothy Thompson at thewriterslife(at)gmail.com if you are interested in hosting and/or reviewing his book. Thank you!

Tags: blog tour, book campaign, book promotions, book publicity, book tour, business platform development, Charney Coaching & Consulting, Chasing Glenn Beck, communications, current events, current events books, Glenn Beck, high technology, liberal, Michael Charney, New Hampshire author, political author, political book, political books, Pump Up Your Book, radical agendas, republican, Riddle Brook Publishing, sell your book, senate candy dish, social networking, social networking culture, the flag code, the Pledge of Allegiance, Twitterverse, virtual book publicity, virtual book publicity tour, virtual book tour
Trackbacks
Leave a Trackback