Pump Up Your Book Presents Downtown Green Virtual Book Publicity Tour March 2012
Authors on Tour
,
Featured
— By
Dorothy Thompson
on January 30, 2012 at 7:28 pm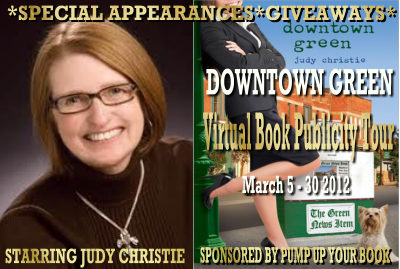 Join Judy Christie, author of the Christian fiction novel, Downtown Green (Abingdon Press), as she virtually tours the blogosphere March 5 – 30 2012 on her first virtual book tour with Pump Up Your Book!
About Judy Christie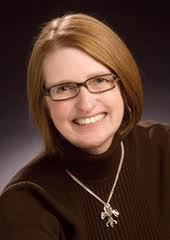 Author Judy Christie loves to help busy people slow down and enjoy each day more – in her series of novels about Green, Louisiana, and her Hurry Less Worry Less nonfiction books. Judy started her writing career as the editor of The Barret Banner in elementary school and has kept a journal since she was nine (and still has all of them). She likes strolling around flea markets, walking in the park near her North Louisiana home and visiting friends and family on her vintage green Kitchen Couch. Her most recent books are Downtown Green, fifth in the Green series, and "Hurry Less Worry Less for Moms." For more information, see www.judychristie.com.
Website | Twitter | Facebook | Goodreads | Amazon | Barnes & Noble | ChristianBook.com | Abingdon Press
About Downtown Green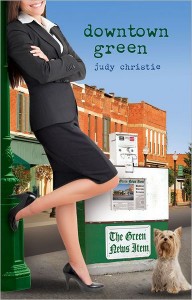 When the highway bypass around Green opens with much fanfare, downtown dries up faster than cement on the roadway. Businesses close and the hospital becomes a clinic. While the road is progress to some, it seems to be leading Green toward a national trend–a town that is merely a shadow of itself.
With the town going backwards, Lois Barker Craig is determined to save Green while juggling life as a new mom and owner of The Green News-Item. But can her plan rescue the town from the path it's on? And what about Dr. Kevin and her son, Mayor Eva, Coach Chris and other familiar Green faces? How does this affect them?
Downtown Green Virtual Book Publicity Tour Schedule

Book reviewed at Carlybird's Home

Tuesday, March 6
Interviewed at Examiner

Wednesday, March 7
Book reviewed at 4 the Love of Books

Thursday, March 8
Interview & book giveaway at Literarily Speaking

Friday, March 9
Book reviewed at By the Book

Monday, March 12
Book reviewed at WV Stitcher

Tuesday, March 13
Book reviewed at Splashes of Joy

Wednesday, March 14
Book reviewed at Reviews by Molly

Thursday, March 15
Book reviewed at A Cozy Readers Corner

Friday, March 16
Book reviewed at A Book Lover
Monday, March 19
Book reviewed at Ashley's Bookshelf

Tuesday, March 20
Book review at Libby's Library

Friday, March 23
Interviewed at Blogcritics
Monday, March 26
Book reviewed at A Word's Worth
Tuesday, March 27
Guest blogging & book review at Jersey Girl Book Reviews
Wednesday, March 28
Book reviewed at Mary's Cup of Tea
Friday, March 30
Book reviewed at A Room Without Books Is Empty
Book reviewed at Christian Bookshelf Reviews

Judy Christie's DOWNTOWN GREEN VIRTUAL BOOK PUBLICITY TOUR will officially begin on March 5 and end on March 30 2012. Please contact Dorothy Thompson at thewriterslife(at)gmail.com if you are interested in hosting and/or reviewing her book. Thank you!
UPDATE: THIS TOUR IS FULL.  THANKS TO ALL PARTICIPATING REVIEWERS AND TOUR HOSTS!


Tags: Abingdon Press, authors, blog tours, book publicity, book tour, book tour companies, books, Christian fiction, Christian fiction blog tour, Christian Fiction book, Christian fiction novel, Christian fiction virtual book tour, Downtown Green, Judy Christie, online book publicity, promote your book, Pump Up Your Book, sell your book, virtual book tours
Trackbacks
Leave a Trackback