New Book for Review: Mystery/Suspense/Women's Contemporary Fiction/Chick Lit 'Exceeding Expectations' by Lisa April Smith
books for review
,
Featured
— By
Dorothy Thompson
on February 15, 2012 at 3:37 pm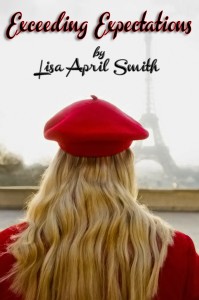 Lisa April Smith will be touring March 5 – April 20 2012 with her mystery/suspense, women's contemporary fiction, chick lit novel, Exceeding Expectations.
It's 1961 and Palm Beach socialite, irresistible rascal and devoted father Jack Morgan encounters genuine danger while staging his suicide to shield his beloved daughters from disgrace. Next, meet his daughter Charlotte (Charlie), an over-indulged 23 year-old struggling to cope with the traumatizing loss of her beloved father, her sister's resulting mental breakdown and the discovery that she's suddenly penniless. Fortunately Raul, an admiring young attorney, appears to offer assistance. As terrified as she is about daily survival, Charlie soon realizes that she has to learn what drove her father to kill himself. With Raul's much needed ego-bolstering, the drive of necessity and unforeseen determination, Charlie finds a practical use for her annoyingly lean 5' 11" frame. In time, this career finances her hard-wrought independence, her sister's costly treatment and an emotional eye-opening journey to Paris.
Jumping back in time to romantic pre-WWII Paris readers meet young Alan Fitzpatrick – aka Jack Morgan – lack-luster artist, expert lover, irresistible rascal, and the bewitching girl who will become the mother of his children. Not even Charlie's relentless detective work will uncover all Jack's secrets, but in a fireworks of surprise endings, she discovers all that she needs to know and more:  disturbing truths about her father, hew own unique talent, crimes great and small and a diabolical villain.
325 pages
You can visit her website at www.LisaAprilSmith.com.
If you would like to review Exceeding Expectations, please fill out the form below or email Dorothy Thompson at thewriterslife(at)gmail.com. Please mention which date would work for you. Lisa is also available for guest posts and interviews. Deadline for inquiries end March 25 or until the tour is filled. Thank you!
[contact-form 2 "Blog Host Form"]

Tags: book reviewers wanted, books for review, chick lit, Exceeding Expectations, Lisa April Smith, mystery, suspense, women's contemporary fiction
Trackbacks
Leave a Trackback