A Heart That Dares Virtual Book Publicity Tour March 2012
Authors on Tour
,
Featured
— By
Dorothy Thompson
on February 25, 2012 at 4:01 pm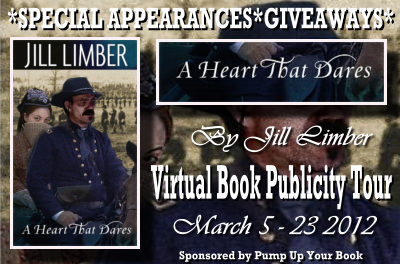 Join Jill Limber, author of the historical romance novel, A Heart That Dares (Boroughs Publishing Group), as she virtually tours the blogosphere March 5 – 23 2012 on her second virtual book tour with Pump Up Your Book!
About Jill Limber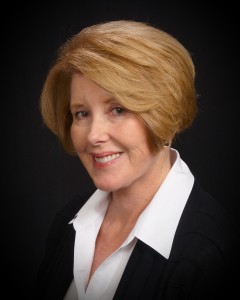 A multi-published author and former RWA President, Jill Limber's latest books are Montana Morning, A Heart That Dares and The Right Track. As a child, some of Jill's tales got her in trouble, but now she gets paid for them. Residing in San Diego with her husband and a trio of dogs and one very ancient cat, Jill's favorite pastime is to gather friends and family for good food, conversation and plenty of laughter.
You can visit her website at www.JillLimber.com.
Website | Facebook | Goodreads | Amazon Kindle Store | Barnes & Noble | Boroughs Publishing Group | Official Tour Page

About A Heart That Dares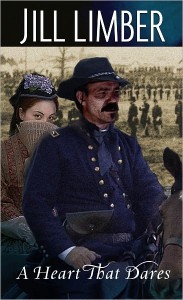 Amanda Giles, an unconventional and free-spirited young artist, has to fulfill a deathbed promise to her brother before she can take up her life as a Bohemian in New York. She finds herself swept up in the perilous life of an undercover espionage agent for the Army of the North with handsome young Army Captain. Daniel McGrath. Daniel knows his preoccupation with the woman posing as his wife puts them both in grave danger, but he finds Amanda has no intention of abandoning their mission. As the danger increases, Daniel's most vital objective is to secure a future for himself and the woman he loves.
A Heart That Dares Virtual Book Publicity Tour Schedule

Interviewed at Examiner

Tuesday, March 6
Guest blogging & book giveaway at Hardcover Feedback

Wednesday, March 7
Guest blogging at Literarily Speaking

Thursday, March 8
Interviewed on Barry Eva's A Book and a Chat (chat starts 6:30 p.m. eastern)

Friday, March 9
Interviewed at Review From Here

Monday, March 12
Interviewed at Between the Covers

Tuesday, March 13
Interview & book giveaway at Cafe of Dreams

Wednesday, March 14
Book reviewed at Bookworm Lisa

Thursday, March 15
Book reviewed at Maureen's Musings

Friday, March 16
Book reviewed at Bags Books and Bon Jovi

Tuesday, March 20
Interviewed at Riverina Romantics

Friday, March 23
Interviewed at As the Pages Turn
Spotlighted at Bluebell Books
Monday, March 26
Book reviewed at Always a Book Lover

Jill Limber's A HEART THAT DARES VIRTUAL BOOK PUBLICITY TOUR will officially begin on March 5 and end on March 23 2012. Please contact Dorothy Thompson at thewriterslife(at)gmail.com if you are interested in hosting and/or reviewing her book. Thank you!
UPDATE: THIS TOUR IS FULL. THANKS TO ALL PARTICIPATING BOOK REVIEWERS AND BLOGGERS!

Tags: A Heart That Dares, authors, blog tour, book publicity, book tour, books, Buroughs Publishing Group, historical fiction, historical fiction book, historical fiction novel, historical romance, historical romance author, historical romance book, Jill Limber, multi-published author, online book promotion, online book publicity, online tour, Pump Up Your Book, RWA president, virtual book tour
Trackbacks
Leave a Trackback