Pump Up Your Book Presents Meant To Be Series Virtual Book Publicity Tour March 2012
Authors on Tour
,
Featured
— By
Dorothy Thompson
on March 1, 2012 at 3:36 pm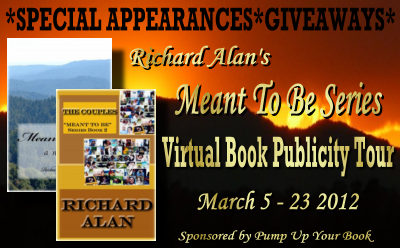 Join Richard Alan, author of the fiction/family/relationships series, Meant to Be and The Couples, as he virtually tours the blogosphere March 5 -  20 2012 on his first virtual book tour with Pump Up Your Book!
ABOUT RICHARD ALAN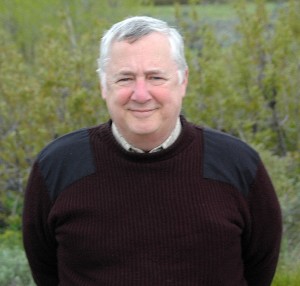 Richard Alan lives in the beautiful Pacific Northwest with his wife, Carolynn.  They are the proud parents of three wonderful adult sons.He is a Vietnam combat and 101st Airborne Division veteran.
After an education in mathematics, a 17 year career in manufacturing engineering and a 22 year career in software engineering, he has started a career as an author.  Richard writes novels about people trying to find their life-partner, soul-mate, the person they are meant to be with for life.  His first two books, Meant to Be and The Couples, are available on his website and most online retailers.
Richard's other interests range from mathematical analysis and photography to anything with an engine.  His current projects include writing the third (Finding Each Other) and fourth novels in the "Meant to Be" series, and discovering the properties of functions of p-adic numbers.  Having completed a potting bench for his lifepartner, Carolynn, he is busy driving her to watch salmon runs, visit National Parks, and anywhere that provides an opportunity to view her avian friends.
His latest books in the Meant to Be Series are Meant to Be and The Couples.
You can visit Richard Alan's website, VILLAGE DRUMMER FICTION at www.villagedrummerfiction.com.
CONNECT WITH RICHARD:
Website | Blog | Twitter | Facebook | Amazon Kindle Store (Meant to Be) | CreateSpace (Meant to Be) | Amazon Kindle Store (The Couples) | CreateSpace (The Couples)

ABOUT THE MEANT TO BE  SERIES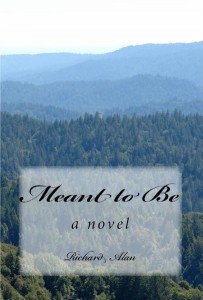 When four years old Meyer and five years old Joan met in the children's room of the local library, they had no idea the two of them would be spending a lifetime together.  Their friendship took off slowly due to their age difference.  Joan did not want to bother with someone who wasnot old enough to be entering kindergarten.They reconnected a few years later when Meyer's family moved from Iowa to the Seattle area, where Joan's family had moved the year before.
Joan and Meyer remain friends throughout their high school years until Meyer left for Viet Nam and Joan's family experienced a tragedy that impacted Joan's view of friends and family.
The interactions of three generations of friends and family helped them reconnect so that they couldcelebrate the good times and get through the difficult and tragic timesas loving partners.
"Interwoven into this engaging tale are the lives of various members of Meyer and Joan`s families, as well as some of their friends, that have likewise experienced this feeling of Bashert(meant to be) -something that none can exactly put their fingers on as to why it happens, but they just know that it must be some divine intervention influencing their fate." Norm Goldman, Bookpleasure.com review.
Meant to Be is a new novel about relationships, love, and life, from author, Richard Alan.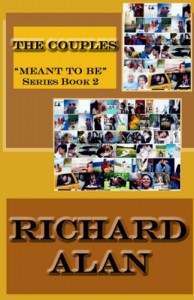 Acclaimed author of Meant to Be, Richard Alan, once again enchants us with characters that we really want to know.  You will laugh, cry, and love with them as you seek the answers to the relationship questions posed by this talented author.
Will a tough techy lady be able to find love with a man who is still mourning his deceased fiancée?
Will an intellectually snobbish genius learn that there is more to the truck mechanic than meets the eye?
Can a nerd and a party girl find happiness together?
Can a teenage boy musician get past his unrequited love to learn to love a ranch girl instead?
Will a troubled rape victim be able to have a normal relationship with a man?
The Couples is about people who may belong together and how the world around them helps them, or sometimes defeats them in their search for a life partner.  It follows the lives of couples,their friends, and their support systems,as they explore their relationships.
The Couples is Richard Alan's second novel in the "Meant to Be" series.  It continues to explore relationships, love, and life.
Meant To Be Series Virtual Book Publicity Tour Schedule

Interviewed at Examiner

Tuesday, March 6
Interviewed at Blogcritics

Wednesday, March 7
Interviewed & book giveaway at Literarily Speaking

Thursday, March 8
Interviewed at Beyond the Books

Friday, March 9
Guest blogging at Lori's Reading Corner

Monday, March 12
Interviewed at The Writer's Life

Tuesday, March 13
Spotlight & book giveaway at Books Products and More
Guest blogging at Writing Daze
Guest blogging & Book Giveaway at Darlene's Book Nook

Wednesday, March 14
Guest blogging at The Story Behind the Book

Thursday, March 15
Interviewed at Pump Up Your Book

Friday, March 16
Interviewed at Review From Here

Monday, March 19
Guest blogging at Literal Exposure

Tuesday, March 20
Interviewed & book giveaway at Cafe of Dreams

Wednesday, March 21
Interviewed at As the Pages Turn

Thursday, March 22
Interviewed at Hardcover Feedback

Friday, March 23
Interviewed at Book Marketing Buzz

Richard Alan's  MEANT TO BE SERIES VIRTUAL BOOK PUBLICITY TOUR will officially begin on March 5 and end on March 23 2012. Please contact Dorothy Thompson at thewriterslife(at)gmail.com if you are interested in hosting and/or reviewing his book. Thank you!

Tags: adopting, authors, Bashert, blog tour, book promotions, book publicity, books, family, family book, fiction, fiction novel, fostering, how to promote your book online, interpersonal relationships, love, Meant To Be, Meant to Be series, online book promotion, online book publicity, online publicity, publicity tour, Pump Up Your Book, relationships, relationships book, Richard Alan, soul mate, The Couples, virtual book tour, Washington author
Trackbacks
Leave a Trackback