Pump Up Your Book Presents Charlie: A Love Story Virtual Book Publicity Tour March/April 2012
Authors on Tour
,
Featured
— By
Dorothy Thompson
on March 2, 2012 at 12:21 am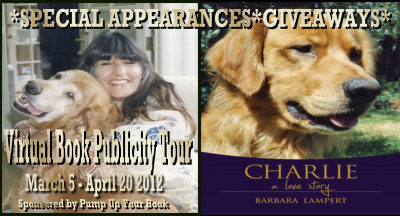 Join Barbara Lampert, author of the dog memoir, Charlie: A Love Story, as she virtually tours the blogosphere March 5 – April 22 2012 on her first virtual book tour with Pump Up Your Book!
ABOUT BARBARA LAMPERT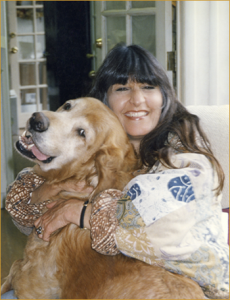 Barbara Lampert is a Marriage and Family Therapist specializing in relationships. She's been in private practice in Brentwood, California for over twenty years. She considers her work a calling and loves what she does. She has a doctorate in medical sociology and two master's degrees – one in psychology and one in sociology. Barbara has adored dogs her whole life. They're her passion! She notes that for a lot of people, their dogs are their best friends. She loves helping people know that's ok – that a soul-satisfying relationship may be found with any being and needs to be treasured. Besides her love of dogs, Barbara is an avid gardener and finds herself gardening in much of her spare time. She sees her garden as a work of art. She loves being in nature – the miracle of growth, the ever-changing landscape, its beauty. Today Barbara lives happily in Malibu, California with her husband David (married twenty-eight years!) and their six-year-old Golden Retriever, Harry. Barbara hopes that Charlie: A Love Story will be a tribute not only to a magnificent dog but to all dogs everywhere. You can visit her website at www.charliealovestory.com.
Website | LinkedIn | Goodreads | Amazon | Barnes & Noble | Official Tour Page
ABOUT CHARLIE: A LOVE STORY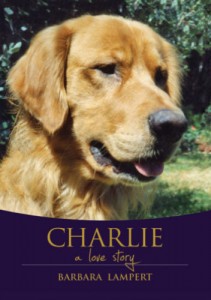 Charlie: A Love Story tells of the beautiful love between Charlie, a Golden Retriever, and the author, Barbara Lampert. It takes place in Malibu, California. When Charlie turned eleven years old and started having some health problems, a journal Barbara was keeping about her garden quickly became mostly about Charlie. Charlie: A Love Story is an intimate look at an incredible connection between a canine and a human. And as a psychotherapist who specializes in relationships, Barbara brings that sensibility and understanding to Charlie's story as well. Charlie was Barbara's loyal confidante and best friend. He was indomitable, had a zest for life and an uncanny emotional intelligence. Charlie: A Love Story is about devotion, joy, loss, and renewal, about never giving up or giving in. But mostly it's about an extraordinary dog and an extraordinary relationship.
Praise for Charlie: A Love Story
"Charlie: A Love Story, a valentine to a special Golden Retriever, is pure magic.  From the moment you meet Charlie and Barbara in her garden, you'll be captivated.  Here is a story you'll never forget.  This lovely book is destined to become a classic."
–  Arthur Vanderbilt, award-winning author of Golden Days: Memories of a Golden Retriever
"Charlie: A Love Story is absolutely beautiful.  It brought tears to my eyes.  Charlie was truly an astonishing dog.  I can think of few people as aware of the capacity for love in other animals as Barbara.  She has captured the love of a dog faithfully and fully."
–  Jeffrey Moussaieff Masson, author of The Dog Who Couldn't Stop   Loving and the bestselling Dogs Never Lie About Love
"In this very heartfelt, special book, Barbara captures Charlie's character and their relationship with clarity and immediacy. This is a tender yet very real story of the love and devotion of a dog and his master equally beloved of each other, a story I think will always be remembered."
– Robert Olds, DVM, from the foreword to Charlie: A Love Story
Charlie: A Love Story Virtual Book Publicity Tour Schedule

Interviewed at Beyond the Books

Tuesday, March 6
Guest blogging at Beyond the Books

Wednesday, March 7
Interviewed at Examiner

Thursday, March 8
Book reviewed at Pet Blogs United

Friday, March 9
Interviewed at Blogcritics

Monday, March 12
Interviewed at Literarily Speaking

Tuesday, March 13
Interviewed at Review From Here

Wednesday, March 14
Interviewed at The Writer's Life

Thursday, March 15
Guest blogging & book giveaway at Darlene's Book Nook

Monday, March 19
Interviewed at Cafe of Dreams
Interview & book giveaway at Broken Teepee

Tuesday, March 20
Interviewed at Divine Caroline

Wednesday, March 21
Interviewed at SOS Aloha

Thursday, March 22
Book reviewed at SOS Aloha

Friday, March 23
Book reviewed at Literarily Speaking

Monday, April 2
Guest blogging at Dogs Rule Cats Drool

Tuesday, April 3
Book reviewed at Dogs Rule Cats Drool

Wednesday, April 4
Book reviewed at WV Stitcher

Thursday, April 5
Interviewed at Pump Up Your Book

Friday, April 6
Book reviewed at Tontowilliams Scrapbook

Monday, April 9
Book reviewed at The Road to Here

Tuesday, April 10
Guest blogging & book giveaway at Through Squirrel's Eyes

Wednesday, April 11
Book reviewed at Candid Canine

Thursday, April 12
Guest blogging at Candid Canine

Friday, April 13
Interview for As the Pages Turn

Monday, April 16
Guest blogging at Hollywood Daze
Guest blogging & book giveaway at Live to Read

Tuesday, April 17
Interview at The Hot Author Report

Wednesday, April 18
Book review & book giveaway at I'd Rather Be Reading at the Beach
Thursday, April 19
Guest blogging at Satisfaction for Insatiable Readers
Friday, April 20
Book review & guest post at Jersey Girl Book Reviews

Barbara Lampert's CHARLIE: A LOVE STORY VIRTUAL BOOK PUBLICITY TOUR will officially begin on March 5 and end on April 20 2012. Please contact Dorothy Thompson at thewriterslife(at)gmail.com if you are interested in hosting and/or reviewing her book. Thank you!

Tags: Barbara Lampert, best family dogs, blog tours, book campaign, book promotions, book publicity, books about dogs, books on dogs, Charlie A Love Story, dog books, dog memoir, dog stories, family dog, Golden Retriever, golden retriever behavior, grief books, older dogs, online book promotion, online book tours, pet loss grief, pet lover, pet memoir, Pump Up Your Book, senior dog, smartest dog, virtual book tours
Trackbacks
Leave a Trackback