Pump Up Your Book Presents Clutter Cut, Inc. Virtual Book Publicity Tour April 2012
Authors on Tour
,
Featured
— By
Cheryl Malandrinos
on March 15, 2012 at 12:14 pm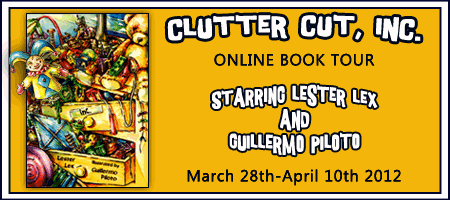 Join artist Guillermo Piloto, illustrator of the children's picture book, Clutter Cut (Silverhouse Books, July 1, 2011) as he virtually tours the blogosphere March 28 – April 10, 2012 on his first virtual book tour with Pump Up Your Book!
ABOUT GUILLERMO PILOTO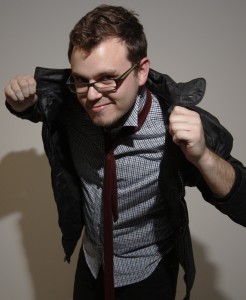 "Ever since I was a little boy I have loved cartoons. It's not as bad for you as they say, because from them I developed a passion to draw and this is what I now do. And when I'm not drawing I still watch cartoons." Guillermo Piloto
Find out more about Clutter Cut online at www.silverhousebooks.com/ClutterCutInc.html

ABOUT CLUTTER CUT
Open Cloot's door and it's quite revealing.
Clutter, clutter right up to the ceiling.
If he hadn't a roof it would rise to the sky.
Will Cloot part with some? He doesn't see why! One day Cloot's dad peers into his room to see a mountain of unused toys.
Together they form Clutter Cut, Inc. and get a box ready to be filled.
Cloot spends hours in a jam though—
which toys will go and which ones will stay.
There's nothing great about giving toys away— or is there…?
Clutter Cut Virtual Book Publicity Tour Schedule

Wednesday, March 28th
Book reviewed at 4 the Love of Books
Thursday, March 29th
Book spotlighted at Broowaha
Friday, April 30th
Book trailer featured at If Books Could Talk
Monday, April 2nd
Book reviewed at Maureen's Musings
Wednesday, April 4th
Book reviewed at Library of Clean Reads
Thursday, April 5th
Book spotlighted at Lori's Reading Corner
Book spotlighted at Divine Caroline
Friday, April 6th
Illustrator interviewed at The Children's and Teens' Book Connection
Monday, April 9th
Book reviewed at Book Review Club
Tuesday, April 10th
Book reviewed at A Year of Jubilee Reviews
TBD: Book reviewed at This Little Book of Mine

Guillermo Piloto's CLUTTER CUT VIRTUAL BOOK PUBLICITY TOUR will officially begin on March 28 and end on April 10, 2012. Please contact Cheryl Malandrinos at ccmal(at)charter(dot)net if you are interested in hosting and/or reviewing his book. Thank you!

Tags: author tour, author tours, blog tour, blog tours, book blog tour, book promotion online, book tour, book tours, children's book illustrators, Children's Books, children's picture book, Clutter Cut, getting rid of clutter, Guillermo Piloto, online book promotion, online book publicity, online book tour, online book tours, Pump Up Your Book, virtual author tour, virtual blog tour, virtual blog tours, virtual book tour, virtual book tours
Trackbacks
Leave a Trackback