Pump Up Your Book Presents Waking Up Happy Virtual Book Publicity Tour + Giveaways
Authors on Tour
,
Featured
— By
Dorothy Thompson
on March 24, 2012 at 4:10 pm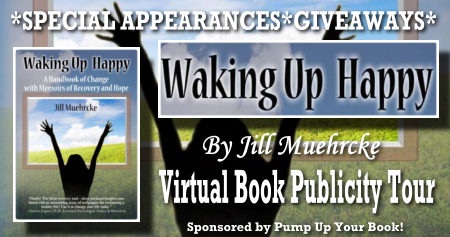 Join Jill Muehrcke, author of the addiction self-help memoir, Waking Up Happy: A Handbook of Change with Memoirs of Recovery and Hope (JP Publications), as she virtually tours the blogosphere April 2 – May 25 2012 on her first virtual book tour with Pump Up Your Book!
ABOUT JILL MUEHRCKE
Juliana (Jill) Muehrcke is the award-winning author of many books and articles. Founder and editor of the international magazine Nonprofit World (snpo.org), she has studied at the University of Colorado and the University of Michigan and has a BA degree, specializing in English and psychology, from the University of Washington. Jill is listed in Who's Who (MarquisWhoswho.com). In her spare time, she enjoys teaching yoga and eating ethnic food. For many years, in several cities, including Seattle, Honolulu, and Madison, she has written restaurant reviews.

Her latest book is Waking Up Happy: A Handbook of Change with Memoirs of Recovery and Hope.

You can visit her website at www.WakingUpHappyBook.com.

Listen to Jill on the Joy Cardin Show at http://wpr.org/search/ideas_program_search.cfm?StartYear=3&keyword=muehrcke&x=0&y=0.

Website | Twitter | Facebook | Amazon | Smashwords | Barnes & Noble | Amazon Kindle | Official Tour Page

ABOUT WAKING UP HAPPY: A HANDBOOK OF CHANGE WITH MEMOIRS OF RECOVERY AND HOPE
No matter what kind of change you want to make in your life, WAKING UP HAPPY: A HANDBOOK OF CHANGE WITH MEMOIRS OF RECOVERY AND HOPE holds the keys. As inspirational as it is practical, this first-of-a-kind handbook focuses on the positive steps of recovery and change.

Powerful, absorbing, and beautifully written, WAKING UP HAPPY tells people's stories, the turning points that changed their lives, and their secrets to waking up happy. Whenever a storyteller learns a new life lesson, you'll find exercises you can do to put that lesson to use in your own life.

In WAKING UP HAPPY, Jill Muehrcke tells her true story. She also includes the stories of her daughter and granddaughter. Together, these memoirs shine a light on three generations struggling with similar problems and offer clues to how to break the legacy of addiction.

In addition, Jill includes the memoirs of over 30 others recovering from addictions, harmful habits, and intolerable situations. Brave and honest, these stories are filled with triumphs and epiphanies, as well as concrete, step-by-step advice and guidance.

Lessons learned are summarized into secrets you can use to forge your own life-changing journey. The book ends with 365 Steps on Your Journey – one simple step for each day of the year. If you do just one thing from this book every day, you'll see dramatic growth.

WAKING UP HAPPY is the first book ever to combine memoirs with exercises in a way that ignites change in an almost magical way. Readers say that the combination of true stories and concrete exercises has helped them change their lives as nothing else has been able to do. The memoirs inspire them and the to-do lists prompt them into action.

The exercises are based on decades of research into how people transform their lives. The memoirs provide hope. They show that change really can happen.

Ideally suited to people recovering from addictions or self-defeating habits, WAKING UP HAPPY is also for anyone who has watched a loved one struggle and felt the anguish of not knowing how to help. Indeed, it's for anyone who longs to move past fear to joy.

One reader calls WAKING UP HAPPY "a treasure trove of delight. It's like a work/play book in the style and spirit of the Motherpeace books. You can read it straight through or just open it at random and find wisdom."

Half of all proceeds from WAKING UP HAPPY will go to the Recovery Foundation (recoveryfoundation.net), helping people lead new lives.
BOOK EXCERPT
There are many reasons why you may want to change your life. If you're in a relationship that's diminishing rather than enhancing your best self, or if you're eating the wrong foods, hurting your body, or doing other self-destructive things, you know, deep inside, that you can't continue on that path. And as you pass through different phases in your life – as you become a parent, for example, or an empty-nester or a retiree – radical adjustments are necessary.
Changing your life isn't easy. It means learning to know yourself. It means creating yourself anew. Because you're both the sculptor and the stone, it's a wrenching task.
And yet every sculptor knows that the piece of art that's meant to be already exists: It's a matter of carving its essence from material that's already there. When asked how the granite bear came to be, the sculptor says, "I just cut away everything that wasn't a bear."
Everyone's life cries out for transformation. If you don't change and grow, you die: Bit by bit, day by day, your innermost soul dwindles and perishes. The cost of not continuing to grow is ultimately feeling half-dead.
You're the artist of your own life. All you need do is pick up the tools for change and begin to use them. Each false start is a carving crucial to the final piece of art, paving the way for you to sculpt your greatest creation: the beautiful self that lies within the stone.
~ ~ ~GIVEAWAYS ~ ~ ~
Pump Up Your Book & Jill Muehrcke are teaming up to bring you a great giveaway.  One lucky person who comments the most on her blog stops will receive a $25 gift certificate.  The blog host who receives the most comments through the tour will also receive a $25 gift certificate!  Also check out her schedule below to find out how you can win a FREE copy of her book.  Good luck and we'll see you on the blog trail!
Waking Up Happy Virtual Book Publicity Tour Schedule

Interview at Blogcritics

Tuesday, April 3
Guest Blogging & Book Giveaway at Suddenly Books

Wednesday, April 4
Book Giveaway at Let's Book It

Thursday, April 5
Interview at SheWrites

Friday, April 6
Interview at Examiner

Monday, April 9
Interview & Book Giveaway at The Writer's Life

Tuesday, April 10
Interview at Between the Covers

Wednesday, April 11
Interview & Book Giveaway at Literarily Speaking

Thursday, April 12
Interviewed LIVE on Blog Talk Radio's A Book and a Chat
Interviewed at Digital Journal

Friday, April 13
Read the first chapter at Beyond the Books

Monday, April 16
Interview at Beyond the Books

Tuesday, April 17
Guest Blogging at Coffee and a Keyboard

Wednesday, April 18
Guest Blogging at Literarily Speaking

Thursday, April 19
Guest Blogging at Motherhoot
Book Review at Sharon's Garden of Book Reviews

Friday, April 20
Interview at Morgen Bailey's Writing Blog

Tuesday, May 1
Guest Blogging at Literarily Speaking

Wednesday, May 2
Book Giveaway at Bookworm Lisa

Thursday, May 3
Guest Blogging at Jersey Girl Book Reviews

Friday, May 4
Book Review at Jersey Girl Book Reviews

Monday, May 7
Guest Blogging & Book Giveaway at Reviews by Molly

Tuesday, May 8
Interview at Review From Here

Wednesday, May 9
Guest Blogging & Book Giveaway at The Book Faery Reviews

Friday, May 11
Interview & Book Giveaway at Cafe of Dreams

Monday, May 14
Interview at As the Pages Turn

Tuesday, May 15
Interview at The Dark Phantom Reviews

Thursday, May 17
Guest Blogging at The Story Behind the Book

Friday, May 18
Interview at The Top Shelf

Monday, May 21
Guest Blogging & Book Giveaway at I Am a Reader, Not a Writer

Tuesday, May 22
Guest Blogging at Lori's Reading Corner

Wednesday, May 23
Interview at American Chronicle

Thursday, May 24
Interview at Divine Caroline
Friday, May 25
Guest Blogging at Literal Exposure
Interview at Broowaha

Jill Muehrcke's WAKING UP HAPPY VIRTUAL BOOK PUBLICITY TOUR will officially begin on April 2 and end on May 25, 2012. Please contact Dorothy Thompson at thewriterslife(at)gmail.com if you are interested in hosting and/or reviewing her book. Thank you!

Tags: addiction cure, addiction help, addiction memoir, addiction memoirs, alcoholism, body mind and soul, book promotions, book publicity, connecting with others, drug abuse, eating disorders, growth and change, healing, inspiration and motivation, Jill Muehrcke, keys to recovery, memoirs, motivational book blog tour, personal growth, Pump Up Your Book, recovery book blog tour, recovery memoir, relapse, self help virtual book tour, self-actualization, self-esteem, self-help, virtual book tour, Waking Up Happy, yoga teacher
Trackbacks
Leave a Trackback