New Suspense Novel for Review: Dark Side of Valor by Alicia Singleton
books for review
,
Featured
— By
Dorothy Thompson
on March 27, 2012 at 7:12 am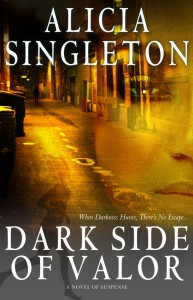 Alicia Singleton will be back June 4 – August 24 with her suspense novel, Dark Side of Valor.  If you didn't get a chance to review/host her last February now is the chance to host her in June, July or August.  Alicia is the one to watch in the suspense genre!
Child advocate Lelia Freeman saves children for a living. As the director of ChildSafe Shelters, she ventures to abandoned squats and crackhouses to rescue teens from the hellish streets of Los Angeles. When she is summoned to Washington to serve on a committee that aids the children of a war-torn African nation, Lelia is kidnapped and becomes a political pawn in a sinister conspiracy. Oceans away from everything she knows, she must trust a mercenary to save her life, or die in the clutches of a psychopath.
Hunting, combat and staying alive are Elijah Dune's specialties. Vengeance is his passion. Haunted by past demons, he's travels to the Motherland to collect a debt. A debt that demands one payment. Death.
Caught in the crosshairs of a madman, Lelia and Elijah must survive the jungles of Zaire and the horrors of their pasts or be forever consumed by the DARK SIDE OF VALOR
Visit her website at www.aliciasingleton.com.
If you would like to review Dark Side of Valor, please fill out the form below or email Dorothy Thompson at thewriterslife(at)gmail.com. Please mention which date would work for you. Deadline for inquiries end July 25 or until the tour is filled. Thank you!
[contact-form 2 "Blog Host Form"]

Tags: Alicia Singleton, blog hosts wanted, book reviewers wanted, books for review, Dark Side of Valor, new book for review, Pump Up Your Book
Trackbacks
Leave a Trackback