Pump Up Your Book Chats with Mystery Suspense Author Lisa April Smith
Author Interviews
,
Featured
— By
Dorothy Thompson
on April 2, 2012 at 7:26 am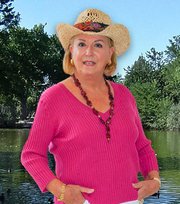 Author Lisa April Smith lives with her husband, He-who-wishes-to-remain-anonymous, in Eternal Playland, Florida, a delightful spot just off I-95. Ms. Smith describes Eternal Playland as: "a little piece of level heaven with occasional dampness, where the bugs are plentiful but respectful, and even the smallest strip mall contains at least one pizza place and a nail salon."
Before discovering a passion for writing, Ms. Smith sold plumbing and heating, antiques, taught ballroom dancing, tutored, modeled, designed software and managed projects for IBM and returned to college multiple times to study anthropology, sociology and computer science, in which she holds degrees, as well as psychology, archeology, literature, history and art. Combine those widely diverse interests with a love of travel and a gift for writing page-turners and it's easy to understand one reviewer's unbridled praise for Exceeding Expectations, "She (Ms. Smith) has a brilliance for conveying characters, and the intellectual capacity to place them in historical settings that sparkle with glamorous detail. . . that make it fun to read . . . " But it takes much more than lush settings, an eye for detail and a love of history to write a page-turner. Read what another reviewer said about Exceeding Expectations: "Lisa April Smith . . . has woven an intriguingly rich tapestry of delightful well-developed characters into a perfectly balanced plot bursting with riveting mystery, crimes of the petty and the horrible sort, suspenseful twists, and romantic tension complete with love scenes that sizzle and pop."
For more about the author, her books, and upcoming projects visit her website: http://www.LisaAprilSmith.com.
About Exceeding Expectations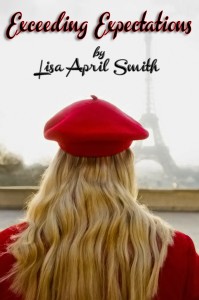 It's 1961 and Palm Beach socialite, irresistible rascal and devoted father Jack Morgan encounters genuine danger while staging his suicide to shield his beloved daughters from disgrace. Next, meet his daughter Charlotte (Charlie), an over-indulged 23 year-old struggling to cope with the traumatizing loss of her beloved father, her sister's resulting mental breakdown and the discovery that she's suddenly penniless. Fortunately Raul, an admiring young attorney, appears to offer assistance. As terrified as she is about daily survival, Charlie soon realizes that she has to learn what drove her father to kill himself. With Raul's much needed ego-bolstering, the drive of necessity and unforeseen determination, Charlie finds a practical use for her annoyingly lean 5' 11" frame. In time, this career finances her hard-wrought independence, her sister's costly treatment and an emotional eye-opening journey to Paris.
Jumping back in time to romantic pre-WWII Paris readers meet young Alan Fitzpatrick – aka Jack Morgan – lack-luster artist, expert lover, irresistible rascal, and the bewitching girl who will become the mother of his children. Not even Charlie's relentless detective work will uncover all Jack's secrets, but in a fireworks of surprise endings, she discovers all that she needs to know and more: disturbing truths about her father, hew own unique talent, crimes great and small and a diabolical villain.
Interview:
Q: Thank you for stopping by, Lisa! Can you tell us why you wrote your book, Exceeding Expectations?
Painters paint. Sculptors transform the shape of wood, clay or stone into images. Writers organize words into stories. For me, it's more than a career choice, it's a compulsion.
Q: Does your book have an underlying message that readers should know about?
I think authors have one or more basic themes in their books that reflect their underlying concept of the world, of life. While my protagonists are quirky flawed human beings, they are ultimately rewarded for determination, integrity, self-reliance and taking responsibility for their actions.
Q: Do you have a writing tip you'd like to share?
Don't wait for your muse. Her hair stylist might be running late. She might be at the dentist with a chipped tooth. You're wasting precious time. Set a schedule and stick to it. There's a lot to do before she arrives. Edit what you wrote yesterday. Construct a calendar for your characters with significant events and their ages that year. If the month or season is pertinent, make a note of that as well. Get working and I promise your muse will show up.
Q:  Can you tell us a little about your childhood?
I was poor. There was a time that we didn't have heat, electricity or running water. My parents argued all the time. Dr. Phil wasn't around to tell them that they shouldn't vent their problems in front of their children.

My father finished his formal education at the sixth grade. My mother completed her last two years of high school at night because she was a sixteen year old bookkeeper during the day.

Why do I tell anyone that? Certainly not to make them feel sorry for me. We're too quick to make excuses for bad behavior or giving up. That's a fine policy for dealing with children who need our understanding. When you're an adult, it's time to get over it.

To my parents' credit, when they weren't arguing or working, they never stopped striving to improve themselves. Through reading, my father could intelligently discuss an extraordinary diversity of subjects, current and historic. My mother got a real estate license at 70 and her brokers' license at 73.    Although she never received a college diploma, she continued taking courses until stopped by dementia.
Q: What was the first thing you did as far as promoting your book?
I did several things at the same time: joined Facebook, Goodreads and Twitter and set up my website.
Q: How do you think book promotion has changed over the years?
I don't think I'll surprise your followers by saying major publishers are relying increasingly less on newspapers and magazines, and increasingly more on the internet and social media.
Q: What is the most frustrating part of being an author?
Watching celebrities and famous authors turn out garbage that costs three and four times my $2.99 books and sell in the millions. But that's the power of publicity. If Paul Gauguin had big-budget promotion his paintings would have sold for mega-millions while he was alive to enjoy it. His life had all the necessary requirements to regularly appear on the first page of the National Inquirer. Gauguin abandoned his wife and five children, landed up in Tahiti where he hung out with scantily attired, often underage, women. It's not clear whether he died of syphilis, alcohol or an overdose of morphine. Now that's PR gold. I've sometimes considered doing something equally sensational, scandalous and shocking. Of course, it would have to be healthier, morally correct, and certainly less hurtful to those I love and cherish. I'm open to ideas.
Q: What is the most rewarding?
The biggest boost is meeting fans who've read my book and want to tell me what they loved and/or beg to know when the next one will be available. That's a high that keeps me going.
Q: How do you think book publishing has changed over the years?
Publishing isn't the business it was twenty years ago. It isn't the business it was three years ago. It's changing so fast the principals don't know how to react. It's being attacked on all sides, not only by the Great Recession but also by the continuing growth of major competitor Amazon. At one time, recently demised Borders had 1,200 stores. But perhaps the greatest blow came from eBooks coupled with the unprecedented success of self-published eBooks. In March, almost 1 out of 3 of Amazon's 50 top selling eBooks sold for less than $3.99 – the overwhelming percentage self-published. Apparently, price matters to buyers. With the ability to read the first 30 pages free before buying, readers no longer dismiss self-published authors. And that's why I decided to join the eBook revolution and self-publish.
Q: Thank you so much for this interview, Lisa. Do you have any final words?
Be kind to each other. Forgive yourself. Envy, anger, regret and resentment sap your strength and distort your thinking. Take a break; find a good book and read.
Tags: authors, blog tour, book promotions, book publicity, books, chick lit, ebooks, Exceeding Expectations, Kindle books, Lisa April Smith, mental breakdown, mystery, online book promotion, Palm Beach, Palm Beach socialite, Paris, penniless, Pump Up Your Book, suspense, virtual book tour, women's contemporary fiction, WWII
Trackbacks
Leave a Trackback