Pump Up Your Book 5th Anniversary Hoedown: Win Pump Up Your Book Tote Bag w/Paperback Copy of Romancing the Soul!
Featured
,
What's New?
— By
Dorothy Thompson
on April 3, 2012 at 1:21 pm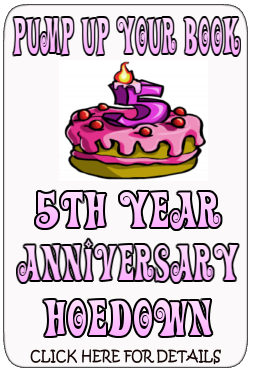 It's day 2 of our month long 5th anniversary hoedown where we give YOU the presents!  Today Dorothy Thompson is stopping off at Let's Book It with a great giveaway!
Win a Pump Up Your Book tote bag with a paperback copy of Dorothy's anthology of soul mate stories, Romancing the Soul tucked inside!  Sorry, only U.S. and Canada residents may enter (blame the postal system!).  To win, click on the image below and good luck!
Click on image at left to enter the other  giveaways we have this month!

Tags: 5th year anniversary, blog tour company, blog tours, Dorothy Thompson, giveaways, online publicity, Pump Up Your Book, Romancing the Soul, soul mate anthology, soul mate stories, tote bag, virtual book tour company, virtual book tours
Trackbacks
Leave a Trackback