Pump Up Your Book Chats with Thriller Author A.K. Alexander
Author Interviews
,
Featured
— By
Dorothy Thompson
on April 5, 2012 at 9:23 pm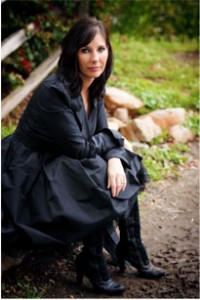 I started writing when I was nine-years-old. I used to write short stories on my dad's notepads. One day he read one and he said to me, "You are a writer." It stuck. My dad is still my biggest supporter and he is also my mentor in many ways. I went to college at The University of Southern California. My parents though didn't think that "creative writing" at USC was a major that would likely be lucrative in the long run, so I figured I would be logical and look at writing in the journalistic field. God (the Universe), etc. had a different plan for me. Soon after I graduated from USC I gave birth to my first son. He was six weeks premature and he had some health issues, which caused me to decide that going into a career at that time would not benefit my son. So, I stayed home with him and I wrote my first book. That first book is tucked away in a box somewhere because it's pretty darn bad, but it gave me the confidence I needed to know that I could start, write, and finish a book. From that point on, it took me twelve years to become a published author and several manuscripts. It has been a wonderful and amazing process, and although many challenges have presented themselves along the way, I have never quit writing. It is my passion!
My other passion is Horses. These amazing animals are very dear to my heart and I have been known to take in "strays." My daughter and I are very active in the horse world. My daughter is involved in pony club and three day eventing.
I enjoy work with other writers when I can , especially kids. I designed a program for young writers to help them learn how to write short stories and picture books to writing complete novellas for older kids. I have mentored several students now and it's a joyful experience to see young writers and their creative minds at work. It is something I am working on expanding with some local teachers in my area.
Family and friends are extremely important to me. I am the proud mother of three amazing kids who have always supported me and are just great, awesome human beings (yes, I know I sound like every mother in the world about their kids, but I really mean it). My husband is my best friend and a very patient man, which is a real positive—he is married to a writer after all. We also have three dogs, a kitty, and eight horses.
When not writing, riding, or being a taxi-cab driver for my youngest, I try to find time to do a little yoga, meditate or cooking. I love cookbooks and cooking!
A.K.'s recent release is Daddy's Home.
You can visit her website at www.michelescott.com/books/ak-alexander.
Website | Blog | Twitter | Facebook | Goodreads | Amazon | Amazon Kindle | Barnes & Noble | Red Room
About Daddy's Home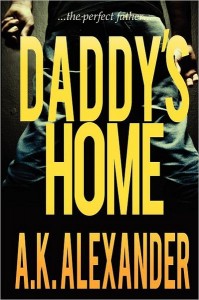 A KILLER STALKS HIS PREY…
A calculating and deadly killer is in search for what he terms as his perfect family. Preying upon single mothers and their innocent children, the police have dubbed him "The Family Man."
HE WATCHES THEM…HE TAKES THEM…
He plays out his role as the perfect father. When things don't go so perfect in his insane fantasy world, the family man kills.
HOLLY JENNINGS IS ON THE CASE…
Crime Scene Investigator Holly Jennings of the San Diego Police Department is determined to track him down and see that justice is served. With Holly being a single mother herself, this man's crimes are deeply personal to her, and turn more so when a friend and her daughter become the latest victims of "The Family Man."
Along with tracking an evil killer, Holly is dealing with her own internal demons. She is raising her daughter Chloe alone after the death of her husband–a death she feels guilty for.
To complicate her life further, Holly is doing her best to avoid possibly falling in love again with charming veterinarian Brendan O'Neil. As Holly delves deeper into solving the murders, she finds herself being sucked into a game of cat and mouse by "The Family Man," that may lead her down a dark path too horrible to bear. One that may cost her gravely-her family, her new found love, and even her life.
Q: Thanks for stopping by, A.K.! Can you tell us why you wrote your book, The Milestone Tapes?
I wrote the book because the idea intrigued me, scared me, and would not leave me alone. I had to write it to get it out of me.
Q: Which part of the book was the hardest to write?
There is a scene where the very evil villain does murder a teenager. That was very difficult for me to write as I have kids. It was tough.
Q: Does your book have an underlying message that readers should know about?
Yes. I wanted readers to take away the reminder of always being aware of your surroundings. Always trust your gut. If someone or something does not feel right to you even if they may look like the nicest person in the world—listen to that gut. You never know when it might save you in some way. It may not be as horrific as what happens in the book but it may keep you from being ripped off, or manipulated even.
Q: Do you remember when the writing bug hit?
As a kid. I loved making up stories with my model horses in my room. I could do that for hours on end. I would also write stories on my dad's legal pads.
Q: Besides books, what else do you write?  Do you write for publications?
I don't write for publications, but I do write in a variety of genres. All of my A.K. Alexander books are thrillers or gritty with some darkness to them that will have you a bit on edge. The books that I write under my name (Michele Scott) vary from mystery to contemporary fiction and even some children's fiction. You can expect a different experience with the different "brands." An A.K. book as I mentioned will likely put you on edge. A Michele Scott book will be lighter and although there are mysteries involved there is also a bit of humor in them as well as some romance.
Q: Do you have a writing tip you'd like to share?
WRITE. That is the best tip I can give. Don't worry about the social networking, marketing and all of that until you have a book. The key is to write.
Q:  Would you like to tell us about your home life?  Where you live?  Family?  Pets?
We live out in a rural area of San Diego County. It's peaceful out here. I can look out my kitchen window and see cows grazing on the hills. We are all kind of homebodies in my house except for the teenager. My oldest just moved out and in with a group of kids over by the college so I miss him a lot. My husband and youngest and I like to be home. We all really enjoy cooking and our animals. We have four dogs, a kitty cat and 9 horses. M<y daughter and I are involved in 3 Day Eventing, so we spend a lot of time riding. My daughter has Olympic dreams as an equestrian. I am her groom J. My parents only live five minutes from us and we spend a lot of time with them as well to help out as my dad has a pretty debilitating disease called Multiple Systems Atrophy. Family is hugely important to me.
Q:  Can you tell us a little about your childhood?
I had a good childhood. We always had horses so I grew up doing a lot of trail riding with my dad. I wrote a short story on my blog that gives a good insight as to what my childhood was like. http://adventuresnwriting.blogspot.com/2012/03/billy-dal-gang.html
Q: Where's your favorite place to write at home?
The tack room in my barn.
Q: What do you do to get away from it all?
On a horse or in my tack room.
Q: What was the first thing you did as far as promoting your book?
After 18 books, I have a marketing program that I follow. The first thing I did was send out a newsletter to my readers announcing the release.
Q: Are you familiar with the social networks and do you actively participate?
I participate in Twitter, Facebook and goodreads.
Q: How do you think book promotion has changed over the years?
The Internet has allowed "The word of mouth," promotion to be enhanced and multiply into the millions much faster than back I the day.
Q: What is the most frustrating part of being an author?
Negative reviews that actually attack the writer. Some people forget that an actual person spent a lot of time and effort on their book and yet they feel compelled to really knock it. I am fine with constructive criticism but nastiness gets me. I always keep in mind that just because I don't care for something does not mean someone else won't like it. For instance, I may think a certain song is just awful and even mutter to myself, "Wow that is crap." But my daughter may love it, and that is her right.
Q: What is the most rewarding?
Readers! Readers who write me and let me know that in some way my books entertained them or touched them. That is the best!
Q: How do you think book publishing has changed over the years?
With the E-books and the ease of self-publishing that allows authors to manage and really be in control of their careers we are seeing many authors achieve sales and stats they didn't and possibly could not before (myself included). I think it will continue to change and I think it is a good thing!
Q: If you had one wish, what would that be?
To cure my father of the disease he has—Multiple Systems Atrophy.
Q: If you could be anywhere in the world other than where you are right now, where would that place be?
I'm happy here, but a beach in Costa Rica or The Maldives would be nice, too.
Q: Your book has just been awarded a Pulitzer.  Who would you thank?
My Dad, mom, husband, kids, and my horses( they keep me grounded and sane).
Q: Thank you so much for this interview, A.K.  Do you have any final words?
Thank You to all of the readers. They are why I do what I do.
Tags: A.K. Alexander, blog tour, book promotions, book publicists, book publicity, book publicity companies, book tour, California, California author, Daddy's Home, deadly killer, evil killer, family man, Jamul, killer, Michele Scott, online book tour, Pump Up Your Book, thriller, thriller author, thriller book, thriller novel, virtual book tour
Trackbacks
Leave a Trackback