New Chick Lit Mystery for Review: The Mamacita Murders by Debra Mares
books for review
— By
Dorothy Thompson
on April 11, 2012 at 3:49 pm
Debra Mares will be touring June 4 – 22 with her chick lit mystery, The Mamacita Murders.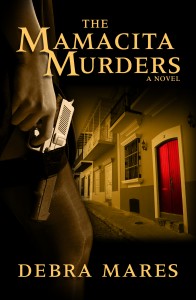 When Laura, a seventeen year old key witness goes missing during trial, Assistant Prosecutor Gaby Ruiz is called to action. Ruiz investigates the sexual assault on Laura, who is left for dead in a motel in a drug- and gang-ridden community. Did Clown, Laura's boyfriend, try to kill her when she tried to leave the Lincoln Gang's prostitution ring or – did a random assailant ransack Laura's room and assault her or – or did law enforcement try to kill Laura to protect one of their own?  The investigation twists from the backwoods in Tuckford County to the back rooms of law enforcement buildings all the way to the Walled City.

Gabriela Ruiz is a sex crimes prosecutor in Tuckford County and runs The Mamacita Club, a community outreach effort from her chrome Vintage Airstream motorhome. She travels with her girlfriends around the county to reach at-risk women. Women affected by drugs, gang and domestic violence, sex crimes, and broken homes–they're all in The Mamacita Club. Gaby has spent all of her professional life seeking justice for others. But it is not until Laura goes missing, that Gaby is able to start searching for justice for herself and begin to fix her own guilt-ridden past for not protecting her mom from an abusive relationship–this time to save her own life and seek closure over her own mother's death.
Here's a peek from the beginning of the first chapter:
The rush of cool air entering the courthouse resets my makeup after a short walk from my office in Old Town Tuckford.  Wheeling my briefcase down this grand hall feels like I'm walking through the Vatican.  This courthouse would make any beach city housewife sitting sixty miles away rethink calling Tuckford County the armpit of this state.  The high ceilings create spectacular, long-lasting echoes of my red stilettos.  Some say we all look the same, but my curves and dance moves may remind some jurors of Carmen Miranda while others of Jennifer Lopez.

I pass all my jurors and smile calmly at each one, pretending to have everything under control.  My given name might be Gabriela Ruiz, most call me Gaby, but today my nickname is Grace Under Pressure.  Don't flinch.  Walk steady.  Breathe deep.

As I enter the double doors of Department Thirteen, the defendant, courtroom clerk, and deputy sheriff are all on time.  But still, there's no sign of Laura.

Laura promised me to be here this morning at 8:30.  I read the courtroom clock.  8:55 a.m.  With my ten unanswered calls to her in the last half hour, I've transitioned from the assistant prosecutor in her case to her official stalker.  I wheel my briefcase up to the counsel table, sit down, and lean my head back into the chair.

The witness stand surrounded in dark oak is empty.  Yesterday, I told the jury that seventeen-year-old Laura would be here this morning to testify.  She's supposed to tell the jury that her stepfather Javier sexually abused her.  My eyes scale up the rich brown walls of the courtroom.  The hand-carved block letters painted in gold at the top of the wall distract me from the knot twisting in my stomach.  It reads, "He has a right to criticize who has a heart to help — President Abraham Lincoln."  I don't feel so bad saying Laura is probably wrapping her legs around some gang-banger while snoozing her alarm clock instead of being here.

I met Laura when was I was assigned to this case a year ago.  She was sexually abused by Javier, her mom's twenty-seven year-old husband, more than just the one time I charged him with.  It left her family divided with Bess, Laura's mom, taking Javier's side.  Seeing glimpses of myself in Laura, including her pin-up girl style, gave me a huge heart to help, but plenty of confidence to criticize her.  Laura is smart and pretty, but looks for love in all the wrong places; something easy to do in the gang-infested RV park she lives in.  Or just something easy to do if you're a divorced professional female like me.

Since I met Laura last year, I had been pushing Bess to sign her up for The Mamacita Club, which I run out of my Vintage Airstream motorhome.  I noticed her and her mom's relationship was strained.  Laura blamed Bess for her stepfather abusing her, which first came to light when Bess caught Laura sexting with her twenty-six-year-old pimp, Payaso, a.k.a. Clown, whom she met on GangScene, an Internet chat room for gang members.

Along with a text message saying, "Bang this," Laura sent Clown a self-portrait sitting up straight on her bed, with her legs crossed.  She had white socks pulled up to her knees with black heels on.  Her hair was up in a vintage-looking bun and she was wearing one of Bess's red lace teddies exposing her breasts.

I told Bess, "Voy a tratar un milagro," using my Latina background to build a rapport.  I promised to work a miracle on Laura's self-esteem, figuring it was worth summoning my magical powers at some point to help her.  After all, not all of this was her fault.  But Bess wasn't interested in my help.

First, she told me she couldn't find a ride for Laura to get to the club.  So a couple months ago, Angela, Riley, Kiki, and I, a.k.a. The Mamacita Club Directors, drove the Airstream to Leafwood RV Park, the same trailer park Laura lives in.  We started hosting meetings there, but that didn't work, either.  Bess told me these types of clubs went against her culture's grain.  Plus, my office thought it would be a conflict of interest for Laura to join since she was a victim in an active case.

The courtroom door flings open and Investigator Dylan Mack walks in.  I tell him to follow me outside.
318 words
You can visit her website at www.DebraMaresNovels.com.
If you would like to review The Mamacita Murders, please fill out the form below or email Dorothy Thompson at thewriterslife(at)gmail.com. Please mention which date (June 4 – July 27) would work for you. Deadline for inquiries end June 25 or until the tour is filled. Thank you!
[contact-form 2 "Blog Host Form"]

Tags: book reviewers wanted, books for review, chick lit mystery, The Mamacita Murders
Trackbacks
Leave a Trackback