Pump Up Your Book Chats with Mainstream Action Adventure Novelist Kim Antieau
Author Interviews
,
Featured
— By
Dorothy Thompson
on April 18, 2012 at 11:30 pm
Kim Antieau has written many novels, short stories, poems, and essays. Her work has appeared in numerous publications, both in print and online, including The Magazine of Fantasy and Science Fiction, Asimov's SF, The Clinton Street Quarterly, The Journal of Mythic Arts, EarthFirst!, Alternet, Sage Woman, and Alfred Hitchcock's Mystery Magazine. She was the founder, editor, and publisher of Daughters of Nyx: A Magazine of Goddess Stories, Mythmaking, and Fairy Tales. Her work has twice been short-listed for the Tiptree Award, and has appeared in many Best of the Year anthologies. Critics have admired her "literary fearlessness" and her vivid language and imagination. She has had nine novels published. Her first novel, The Jigsaw Woman, is a modern classic of feminist literature. Kim lives in the Pacific Northwest with her husband, writer Mario Milosevic.
Her latest book is Her Frozen Wild.
Learn more about Kim and her writing at www.kimantieau.com.
Twitter | Facebook | Goodreads | Amazon | Amazon Kindle | Barnes & Noble | Smashwords | LibraryThing
About Her Frozen Wild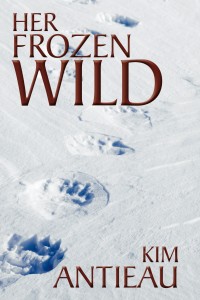 Scientists in the Altai in Siberia uncover the 2,500 year old frozen mummy of a tattooed priestess or shaman. This mummy has the same mtDNA (mitochondrial DNA) as American archaeologist Ursula Smith whose mother disappeared in Siberia 30 years earlier. Ursula travels from the U.S. to Siberia to unravel the mystery of the "lady" and meets Sergei Ivanovich Polyakov, a Russian doctor who graciously invites her into his home. After they become lovers, she discovers he has the same tattoos on his body as the tattooed lady. He tells a disbelieving Ursula that they have met before and she is destined to save the ancient People, considered as devils by some and shape-changing gods by others. A shaman takes Ursula to one of the sacred timeless caves where Ursula's mother supposedly disappeared. When Ursula allows the shaman to tattoo her, she is thrown back in time where she must unlock the mystery of the People and their link to her past in order to save them and Sergei—even if it costs her her life.
Q: Thanks for this interview, Kim.  Can you tell us why you wrote your book, Her Frozen Wild?
I was away at a workshop, and while trying to sleep one night, I read a National Geographic Magazine article about the discovery of a mummy in Siberia. They called her the "ice maiden." She was tattooed, and she was buried with a conical hat and other items that made archaeologists believe she was a priestess or shaman. As soon as I read the article, I knew I would have to write about her. That's when Her Frozen Wild was born. I had to tell her story, and the story of her people, but I did it with a modern twist. In my book, archaeologists uncover a frozen tattooed female mummy in the Altai in Siberia, too. When they take a DNA sample and put it in the worldwide DNA database, they discover her DNA matches almost perfectly with Ursula Smith's DNA, a Portland archaeologist who is peripherally involved in the project. Nobody can explain how this could have happened since Ursula is in Portland and has never been to Siberia, and the mummy has been encased in ice for 2,500 years. Ursula has to go to Siberia and unravel the mystery. That's when all the fun happens!
Q: Which part of the book was the hardest to write?
I don't know that any of it was harder than any other. I often don't like writing the beginning of a book, but I particularly enjoyed writing the first part of Her Frozen Wild. First we're in Siberia; then we're in Washington State when Ursula is a child. Then we're in Portland in modern times; then in Siberia in modern times. I loved the short chapters and the pace—it moves! I had to do quite a bit of research about Siberia in the 18th century (when Ursula lives with an alchemists for a time), and that's always a little nerve-wracking. I want to make certain I get everything right. I had to get to the place I always have to get to when writing historical fiction: Nobody who is alive today was alive then, so no one can actually contradict me!
Q: Does your book have an underlying message that readers should know about?
I try to leave that up to the reader. It's about figuring out how to live an authentic life, and it's a great adventure and love story!
Q: Do you remember when the writing bug hit?
I've been writing nearly all of my life, since before I could write, actually. I used to draw pictures to tell a story. Then once I could write, I went wild! I've been writing ever since.
Q: Do you have a writing tip you'd like to share?
Keep writing!
Q:  Would you like to tell us about your home life?  Where you live?  Family?  Pets?
I live with my husband, writer Mario Milosevic, in the Pacific Northwest, in the Columbia River Gorge. We both work part-time for the library system where we live. We love to hike, watch movies, and hang out with each other. I'm fascinated with folk and fairy tales. I study them, read them, re-imagine them. I'm also interested in permaculture, gardening, and sustainable food systems. We live in a county in Washington state where it is against the law to harm Bigfoot. I really like the idea that there's a law on the books in my county that essentially protects a fairy creature.
Q:  Can you tell us a little about your childhood?
I grew up out in the country near the small town of Brighton in Michigan. I had four sisters. I was the second to the oldest. I was a tomboy through and through. I was outside running around in the woods from dawn until dusk—barefoot most of the time. I loved animals, loved the woods, loved riding horses, loved being outside under the stars. I love playing baseball and badminton. In the summer, before we had AC, I used to sit between the rows of corn and play in the sand with my little trucks. It was the coolest place to be, underneath those tall beautiful green cornstalks. When I was a little older, I'd sit under one of the big old oak trees writing all summer long. When I was about twelve years old, I believe, there were UFO sightings in Ann Arbor, which was just down the road from where I lived. The rumor was that the aliens were coming to get girls and women! I remember I folded up some clothes and put them in the top drawer of my dresser so I could grab them in case the aliens came. I was ready to go! I'd stand at the edge of the marsh and watch for swamp gas, fairies, and UFOs. 
Q: Where's your favorite place to write at home?
I write at my desk, in my room. We live in a strange (rented) house with a stairway through the middle of two living rooms. I guess the owners called one room a living room and the other the front parlor. In any case, that front parlor—or the other living room—is my room. I like it because it's open. I can look over into the living room or up the stairs. I've put my desk so that it faces the window, and I can look out at the beautiful Columbia River Gorge—and the rhododendron that grows right up against my window. In the spring, it has the most gorgeous scarlet-colored flowers. 
Q: What do you do to get away from it all?
I try to go out into the woods as much as I can. We hike a lot in the area. Sometimes we get away to Portland, which is about an hour from where we live. We like to go to Powell's Books and wander around, maybe go out for dinner. Once a year, we try to go to the Southwest for a writing retreat. We get away from it all and write! That's what we'd like to be doing most of the time.
Q: Are you familiar with the social networks and do you actively participate?
Right now I'm on Facebook. I have an account on twitter, but I don't use it. I had one when twitter first started, but I got tired of it fairly quickly. I like Facebook much better, but I get tired of all the privacy invasions—or attempted invasions. It can be a time sink. I like connecting with my family, friends, and readers. I don't think it's a good place to be constantly flogging your books, though. I get annoyed with people who are only there to sell something. I usually hide their feed! I'm not sure I sell more books when people get to know me better on a social network site—or anywhere else. I'm quite opinionated, and that doesn't always win friends and influence people! I want people to read my books and like my books; me: I'm not so important in the mix.  
Q: What is the most frustrating part of being an author?
It's a difficult way to try to make a living.
Q: What is the most rewarding?
I feel like my characters are real, and so I feel as though I've gotten to know the most amazing people over the course of my life—through my fiction.
Q: How do you think book publishing has changed over the years?
I could write a book about that. (I have written a long piece on it called "The Making of an Indie Writer.") From a writer's point of view, traditional publishing has gotten more difficult. It used to be that the hardest thing was getting your first book published; once that happened, your publisher mentored you and supported you and bought your next book and your next. They helped you build an audience. That doesn't happen any longer. Traditional publishers want bestsellers the first time out. If your book doesn't sell enough copies, they won't buy your next book. Also, many traditional publishers are being more draconian about the rights they want. Unfortunately, in my view, too many writers are signing their rights away in their rush to be published. Fortunately, we have a new trend in independent publishing. It's now much easier for writers and small publishers to publish their own print books and to make e-books. You can't tell the difference between a traditionally published book and a good indie published book anymore. I think this trend is great. I'm hoping that a whole generation of good writers will now be able to make a living doing what they're so good at!
Q: If you could be anywhere in the world other than where you are right now, where would that place be?
New Mexico, particularly Santa Fe or the Taos area. I love that blue sky! I always feel at home when I'm in New Mexico.
Q: Thank you so much for this interview, Kim Antieau.  Do you have any final words?
Thank you! If readers want to find out more about my work, they can find go to my website: http://www.kimantieau.com/. I'm also on Facebook: https://www.facebook.com/kimantieau
Tags: Action, adventure, alchemists, alchemy, Altai, Amazons, American archaeologist, ancient people, archaeology, bears, blog tours, book promotions, book publicity, cave art, forensic archaeology, frozen mummy, Green Snake Publishing, Her Frozen Wild, ice maiden, ice mummies, Kim Antieau, mainstream, mainstream action fiction novel, mainstream book, mainstream fiction, mainstream novel, mtDNA, mummies, online book publicity, Pacific Northwest, pazyryk, Pump Up Your Book, rock art, Russia, sacred geometry, Scythians, sell your book, shaman, shamanic, shamans, shapeshifters, shapeshifting, Siberia, tattoo lady, tattoos, virtual book tours, Washington author, Wu
Trackbacks
Leave a Trackback