PUMP UP YOUR BOOK PRESENTS JUST BENEATH THE SURFACE I VIRTUAL BOOK TOUR '12
Authors on Tour
,
Featured
— By
Dorothy Thompson
on April 21, 2012 at 7:28 pm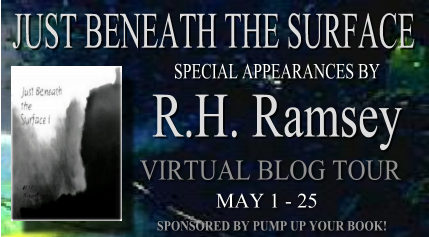 Join R.H. Ramsey, author of the suspense novel, Just Beneath the Surface I, as she virtually tours the blogosphere May 1 – 25 2012 on her first virtual book tour with Pump Up Your Book!

ABOUT R.H. RAMSEY
Rhonda Ramsey is a prolific new author who enjoys breathing passion and life into each and every character she creates. She is an avid writer with eleven completed novels, four novels near completion, and five short stories. She is also a military wife, mother of two, and student.

Over the course of seven years, Rhonda has diligently researched topics ranging from but not limited to; relationships, addiction, abuse, and mental illness. With a passion for people, helping, and learning, Rhonda's zeal for inspiring others through her writing has also expanded to freelance writing and blogging; as she has her own blog, and enjoys contributing to other websites as well. She hopes to continue in her quest of inspiring others as well as learning from everyone she meets.

Her latest book is Just Beneath the Surface I.

Visit her blog at www.arirjames.wordpress.com.
Check out R.H. and her book at the following online locations:
ABOUT JUST BENEATH THE SURFACE I
When Kendall Berkely takes a look in the mirror, she not only desperately wants to run away from the stranger staring back at her; but she also knows that her days are numbered. She can feel it in her bones, and has the bruises to prove it. To make matters worse, Kendall will soon discover that her seventeen year old daughter, Diamond is on a path nearly just as dangerous.

After the demise of the family unit she once knew, a distracted mother, and being forced to accept a new stepfather, Diamond finds herself knee deep in a multitude of mistakes. When Diamond finds herself more lonely than ever before she crosses paths with Bobby Lidell; a teacher's aide with a dark side. Just as Diamond realizes that she is in over her head, her mother and father have already been notified, and will do everything in their power to protect her.

But what is lurking in the shadows will not stop until a vow has been kept; what is lurking just beneath the surface will come seeking revenge.
Just Beneath the Surface I Virtual Book Publicity Tour Schedule
Tuesday, May 1
Interview at Beyond the Books
Wednesday, May 2
Interview at Blogcritics
Friday, May 4
Guest Blogging at The Story Behind the Book
Monday, May 7
Interview at Review From Here
Friday, May 11
Interview at Examiner
Monday, May 14
Interview at Literarily Speaking
Thursday, May 17
Guest Blogging & Book Giveaway at Darlene's Book Nook
Friday, May 18
Guest Blogging at Lori's Reading Corner
Monday, May 21
Interview & Book Giveaway at Cafe of Dreams
Tuesday, May 22
Interview at As the Pages Turn
Thursday, May 24
Guest Blogging at Writing Daze
Friday, May 25
Interview at Divine Caroline
R.H. Ramsey's  JUST BENEATH THE SURFACE VIRTUAL BOOK PUBLICITY TOUR will officially begin on May 1 and end on May 25 2012. Please contact Dorothy Thompson at thewriterslife(at)gmail.com if you are interested in hosting and/or reviewing her book. Thank you!
UPDATE: THIS TOUR IS FULL.  THANKS TO ALL REVIEWERS AND BLOG HOSTS!

Tags: African American author, African American fiction, blog tour, book promotions, book publicity, inspirational fiction, Just Beneath the Surface, R.H. Ramsey, virtual book tour
Trackbacks
Leave a Trackback