New Futuristic/Fantasy eBook for Review: Tempest (The Samsara Chronicles – Book 5) by Diana Kemp and Gabriella Bradley
books for review
,
Featured
— By
Dorothy Thompson
on May 5, 2012 at 3:37 pm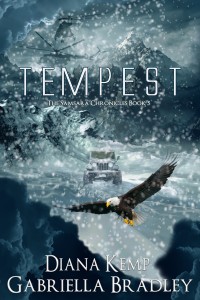 Diana Kemp and Gabriella Bradley will be touring June 1 – August 31 with Tempest, Book 5 in The Samsara Chronicles series.
Narrowly escaping danger during their quest to acquire the talismans and suspected of multiple murders, Aislinn and Dylan endure harsh winter conditions to evade the military and corrupt human minions seeking to stop them from the opening of the portal.
Book Excerpt:
"I agree we can't afford to lose any more men but it's too late to do anything about it now," Garring said. "We've lost two good cops. Tomorrow we'll probably lose more. Anger won't help matters." He retrieved a manila file precariously perched on his in-tray. "I've read your report. It seems unlikely that Young could have killed these officers alone. He must have had an accomplice. I also feel that the report is somewhat exaggerated in respect to the carnage described. What's wrong with you? This sounds like nonsense from some B-rated science fiction film."
Patterson's dark eyes flashed indignantly. "With all due respect, Captain, if you read the reports that came in from Vancouver, you'll find a similar scenario."
Garring sighed and glanced at the stack of reports littering his desk. His head ached from the low intensity lighting and the stale air. Not even the background bustle of the station was a comfort to him anymore. "Do you have any idea how many reports I receive each day, Patterson? I barely have time to sift through the most urgent, let alone the lower priority."
"I would hardly call the murder of two cops low priority!" Patterson cried. He reached for a battered manila folder lying on top of the stack and leafed through a sheaf of papers. He pulled one sheet out and handed it to Garring. "Read this, sir."
The Captain squinted at the paper then reached for his glasses and read more intently. He shook his head as he scanned the text. "What the hell is this bullshit? More slasher stuff. What are we dealing with here? Some kind of demonic cult? You know Young quite well. Do you honestly think he had anything to do with all this? For God's sake! He's one of our best men! You think he's suddenly turned into some kind of monster?"
76 pages
If you would like to review Tempest, please fill out the form below or email Dorothy Thompson at thewriterslife(at)gmail.com. Please mention which date would work for you.

Please note that this tour is part of Pump Up Your Book's Kindle Fire Promotional campaign. By signing up for this tour, you will be asked to post the Kindle Fire giveaway on your blog. Please tell us if you want to opt out of this. If you plan on opting in, please tell us how you want to be followed – Twitter or Facebook – and give us the link on the form below. By signing up for this tour, you also become eligible to win $50 for the most comments you receive on your blog for the duration of this blog tour. This blog tour ends on August 31 and the winner of the Kindle Fire giveaway will be announced on September 1. The winning blogger who has the most comments (not counting their own or those affiliated with Pump Up Your Book) will be announced on September 3.
If you would rather post a book spotlight (we send you the information to cut and paste to your blog), send the author an interview or have the author write a guest post on your blog, along with posting the Kindle Fire giveaway, that can be arranged, too. Please make a note of it in the form below.

Deadline for inquiries end July 25 or until the tour is filled. Thank you!
[contact-form 2 "Blog Host Form"]

Tags: book reviwers wanted, books for review, Diana Kemp, fantasy, futuristic, Gabriella Bradley, Pump Up Your Book, Tempest, The Samsara Chronicles
Trackbacks
Leave a Trackback