Pump Up Your Book Presents The Bathroom Book of Romance Virtual Book Publicity Tour 2012
Authors on Tour
,
Featured
— By
Dorothy Thompson
on May 9, 2012 at 10:30 pm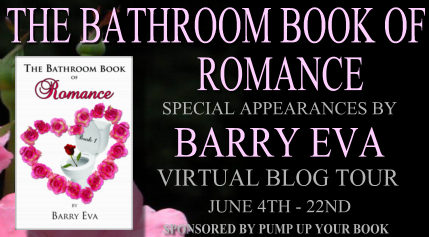 Join Barry Eva, author of the romantic short stories, The Bathroom Book of Romance – Book 1, as he virtually tours the blogosphere June 4 – July 27 2012 on his second virtual book tour with Pump Up Your Book!
ABOUT BARRY EVA
Born in Barnet, Hertfordshire, England, Barry left his beloved England in 2000, moving to the USA. Under the name "Storyheart" he released his best selling YA novel "Across the Pond" which currently has over 100 reviews on Amazon.
Barry is also well known as the host of the popular radio show "A Book and a Chat" with over 450 shows under his belt. Popular for narrating his stories on local TV or as a guest on other media stations, Barry's whit, oratory, and old-fashioned English charm make him a popular interviewee.
The Bathroom Book of Romance – Book 1 is the first of a series of book sharing his previously published online, short romance stories.
Find out more at http://romance2read.com
ABOUT THE BATHROOM BOOK OF ROMANCE – BOOK 1
This compilation, the first in a series of books with short stories, is short enough to read over a cup of tea or coffee, or whenever you have some time to yourself, yet long enough to bring a tear to your eye or a smile to your face. In fact some people call them "bathroom stories" as that might be the only place you get five minutes peace and quiet to yourself.
The Bathroom Book of Romance Virtual Book Publicity Tour Schedule
Monday, June 4
Interview at Literarily Speaking
Tuesday, June 5
Interview at The Writer's Life
Wednesday, June 6
Interview at Review From Here
Monday, June 11
Book Review & Interview at Books Books and More Books
Tuesday, June 12
Book Review at Inside BJ's Head
Wednesday, June 13
Interview at Examiner
Thursday, June 14
Interview at Book Marketing Buzz
Monday, June 18
Book review at Bunny's Reviews
Tuesday, June 19
Guest Blogging at Love Romance Passion
Wednesday, June 20
Interview at The Dark Phantom
Friday, June 22
Book Review at Cindy's Love of Books
Barry Eva's THE BATHROOM BOOK OF ROMANCE BOOK 1 VIRTUAL BOOK PUBLICITY TOUR will officially begin on June 4 and end on June 22 2012. Please contact Dorothy Thompson at thewriterslife(at)gmail.com if you are interested in hosting and/or reviewing his book. Thank you!
Tags: Barry Eva, blog book tour, blog tour, book tour, online book tour, romantic stories, short story collection, The Bathroom Book of Romance, virtual book tour
Trackbacks
Leave a Trackback