New Southern Christian Fiction for Review: Son of a Soldier by Aiken Brown
books for review
,
Featured
— By
Dorothy Thompson
on May 23, 2012 at 6:03 pm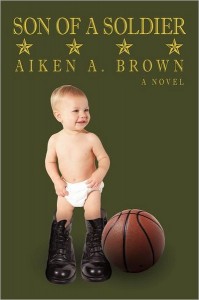 Aiken Brown will be touring July 2 – 27 with her new southern Christian fiction, Son of a Soldier.

Son of a Soldier is the powerful story of how God used one unlikely, country girl to change the course of history. It seemed impossible to believe that an eighteen-year-old girl from the middle-of-nowhere, Tennessee would have any real significance in the history of our nation…that is until God chose her to make a Godly man out of a flawed, military hero's stubborn son.
Hailey was a small town, farm girl who had never left her home state of Tennessee. She was a naïve tomboy who possessed an unassuming charm, the power of which she could not comprehend.
Grant was a rebellious Army brat who had seen the world. Glib, sarcastic and self-destructive, he was a loner lost in a world he had never felt he fit into.
They seemingly had little in common, but when two hearts collided, two worlds became one; while Hailey embarks on a beautiful journey of self-discovery in this unique coming-of-age story, Grant travels a winding, dirt road that helps him rediscover a lost innocence and discover a renewed purpose.
624 pages
You can visit Aiken online at www.aikenbrown.blogspot.com.
Book Excerpt:
A bright-eyed seven-year-old walked alongside his mother as they strolled the aisles of the crowded, outdoor market. He maintained a mischievous, snaggletooth grin as a stick of blue raspberry flavored rock candy hung from his mouth. He zigzagged between shoppers, dribbling his basketball with the precision of a future point guard.
It was a Saturday afternoon; the summertime weather was refreshingly cool, and a slight breeze, filled with the pleasant aroma of freshly cut flowers and various fresh fruits, blew through the busy streets. The market was bustling with people carrying baskets filled with colorful fruits and vegetables. A man strumming a guitar sat in front of the corner fruit stand; children passed by in the street kicking a soccer ball back and forth, laughing as they darted effortlessly through the crowd. Two elderly men, both distinguished, sharply dressed, retired, college professors, sat outside a nearby café playing chess and laughing heartily over coffee and conversation.
The moment the little boy spotted the two gentlemen, he turned to his mother and asked permission to cross the street. With only a slant of her eyes, his mother reminded him that when he addressed her, he was to do so in English. He smiled, realizing his error, and his mother smiled back at him with an amused nod. Again, he asked permission to cross the street to go to the café, and his mother sent him on his way. The little boy dribbled his basketball across the street as he bounded toward his two companions, eager to hear what new stories they had for him.
"Hurry back, Grant!" his mother called after him. "We have a lot of packing to do this afternoon!"  She breathed in her own words as she practically danced down the row of fruit with a spring that had been absent from her steps for months if not years.
Grant Cohen was a quiet little boy, much more comfortable in the presence of adults than with children his own age. He had spent the past two years being home schooled by two German professors who found his inquisitive nature most remarkable. They taught him the language, culture and history of their country while taking him through daily lessons on arithmetic, philosophy and literature. Otto and Ludwig didn't believe in classrooms or textbooks, so, instead of boring their young student with lectures, they took him on frequent fieldtrips and allowed him to experience Europe firsthand. At seven years of age, Grant had an incredible command of the German language and a vast understanding of things beyond his years. He was an incredibly gifted child who genuinely enjoyed learning; he was a teacher's dream…attentive, yet not without his own views, opinions and surprisingly well-thought-out theories. Otto and Ludwig's teaching methods were unconventional, but Grant thrived under their care, and they grew to love him. The inevitable news that Grant's father was taking him back home to the United States had hit them much harder than they had expected. In a matter of days, their young protégé would go back home to America and integrate into a classroom where Dresden is a dot on a map and studying its tragic history means looking at a picture in a history book, not going on an educational walking tour through the site of World War II's most controversial bombings. Otto and Ludwig worried that, while they had educated Grant in the most stimulating manner they knew how, they had done very little to prepare him for the classroom he would enter back home in North Carolina.
* * * * *
If you would like to review Son of a Soldier, please fill out the form below or email Dorothy Thompson at thewriterslife(at)gmail.com. Please mention which date would work for you. Aiken is also available for interviews and guest posts.

Deadline for inquiries end June 25 or until the tour is filled. Thank you!
[contact-form 2 "Blog Host Form"]

Tags: Aiken Brown, book reviewers wanted, books for review, Christian fiction, Son of a Soldier
Trackbacks
Leave a Trackback