Pump Up Your Book Presents Severed Threads Virtual Book Publicity Tour 2012
Authors on Tour
,
Featured
— By
Dorothy Thompson
on June 9, 2012 at 5:39 pm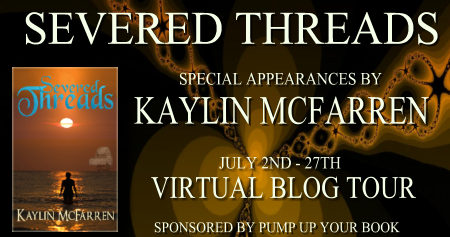 Join Kaylin McFarren, author of the romantic suspense novel, Severed Threads, as she tours the blogosphere July 2 – 27 2012 on her second virtual book tour with Pump Up Your Book!
ABOUT KAYLIN MCFARREN
As many people know, Kaylin McFarren wasn't born with a pen in hand like so many of her talented fellow authors. However, she has been involved with business and personal writing projects for many years. Her careers have taken her in all directions, ranging from fashion modeling and interior design to office manager and art gallery director. Yet her love of reading and interest in creative writing has remained ever present. As a result of her tapping into her imagination and utilizing her own life experiences, she has earned more than a dozen literary awards. Her first novel, Flaherty's Crossing was a 2008 finalist in the prestigious RWA® Golden Heart contest and her second book, Severed Threads, has already garnered two first place awards.
Kaylin is a member of RWA, Rose City Romance Writers, and Willamette Writers. She received her AA in Literature at Highline Community College, which originally sparked her passion for writing. In her free time, she also enjoys giving back to the community through participation and support of various educational organizations in the Pacific Northwest, and is currently the president of the Soulful Giving Foundation – a non-profit she and her husband formed to fund expanded research, and the care and treatment of cancer patients and their families.
Her latest book is a romantic suspense titled Severed Threads.
You can visit Kaylin online at www.KaylinMcFarren.com.
Twitter: www.twitter.com/4kaylin
Facebook: www.facebook.com/kaylin.mcfarren
ABOUT SEVERED THREADS
Believing herself responsible for her father's fatal diving accident, Rachel Lyons has withdrawn from the world and assumed a safe position at a foundation office. When called upon by a museum director to assist her former love interest with the recovery of a cursed relic from a sunken Chinese merchant ship, she has no intention of cooperating – until her brother is kidnapped by a drug-dealing gangster. In order to save him and gain control over her own life, Rachel must not only overcome her greatest fears, but also relive the circumstances that lead to her father's death.
WATCH THE TRAILER

Severed Threads Virtual Book Publicity Tour Schedule
Monday, July 2
Book Feature at Review From Here
Monday, July 9
Interview at Examiner
Tuesday, July 10
Guest blogging at Literarily Speaking
Wednesday, July 11
Book Review at The Story of a Girl…
Thursday, July 12
Interview at Literarily Speaking
Friday, July 13
Guest Blogging  & Book Giveaway at Darlene's Book Nook
Monday, July 16
Interview at Between the Cover
Wednesday, July 18
Guest Blogging at Beyond the Books
Thursday, July 19
Interview at The Writer's Life
Book Review at Books Books and More Books
Friday, July 20
Book Review at The Book Faery Reviews
Monday, July 23
Guest Blogging at The Book Boost
Tuesday, July 24
Book Feature at Reviews by Molly
Interview at As the Pages Turn

Wednesday, July 25
Book Review and Guest Blogging at Reviews by Martha's Bookshelf
Thursday, July 26
Book Review at Bless Their Hearts Mom
Friday, July 27
Book Review at Celtic Lady's Reviews

Kaylin McFarren's  SEVERED THREADS VIRTUAL BOOK PUBLICITY TOUR will officially begin on July 2 and end on July 27 2012. Please contact Dorothy Thompson at thewriterslife(at)gmail.com if you are interested in hosting and/or reviewing her book. Thank you!

Tags: author, blog tours, book marketing, books, fatal diving accident, Kaylin McFarren, online book promotion, Pump Up Your Book, romantic suspense, romantic suspense blog tour, romantic suspense book, romantic suspense book virtual book tour, romantic suspense novel, Severed Threads, sunken Chinese ship, sunken ship, virtual book tours
Trackbacks
Leave a Trackback