Pump Up Your Book Presents Anger Mastery Virtual Book Publicity Tour 2012 + Nook 8GB Tablet Giveaway
Authors on Tour
,
Featured
— By
Dorothy Thompson
on June 13, 2012 at 1:25 pm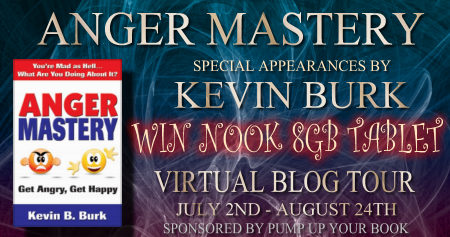 Join Kevin Burk, author of the nonfiction, Anger Mastery: Get Angry, Get Happy, as he tours the blogosphere July 2 – August 24 2012 on his first virtual book tour with Pump Up Your Book!
ABOUT KEVIN B. BURK
Kevin B. Burk has been helping people around the world to improve their lives and relationships since 1996 through his astrological counseling and relationship coaching practice. His humor, wisdom and compassion are always present, in his books (ten so far, including Astrology: Understanding the Birth Chart, The Relationship Handbook: How to Understand and Improve Every Relationship in Your Life, and his newest book, Anger Mastery: Get Angry, Get Happy), his classes and workshops, and his interactions with his clients and students. Kevin's focus is always on the practical, exploring how we can actually use astrology and spiritual practice on a daily basis to transform our lives.
In the astrology world, he is best known for making Classical Astrology accessible to everyone, taking complex and abstract concepts and showing how they can be used to create concrete, specific and practical interpretations. Kevin's website, The Real Astrology with Kevin B. Burk is one of the premiere astrology resources on the Internet. His book, Astrology: Understanding the Birth Chart is a textbook used at Kepler University in their Undergraduate Astrology Degree program, and has been translated into Russian, and is currently being translated into Bulgarian. Kevin's articles have appeared in The Mountain Astrologer, the Australian publication,Well Being Astrology, and in Llewellyn's Moon Sign books.
In the non-astrology world, Kevin is best known for his unique approach to understanding and improving all human relationships through The Relationship Handbook andThe Relationship Workshops.
Kevin has released a series of DVDs of his Law of Attraction workshops: the self-contained Prosperity & The Law of Attraction, and Astrology & The Law of Attraction, a series of 7 DVDs recorded live in Houston, TX at a weekend workshop for the Gulf Coast Chapter of NCGR.
Kevin has developed a revolutionary program for spiritual growth called Archetypal Astrology: The Hero's Journey. This intensive program guides participants through the process of meeting and moving into Right Relationship with each of the seven Astrological Archetypes (you may know them as the seven personal planets).
Kevin is currently synthesizing astrology and spirituality into his next series of books: Astrology & The Law of Attraction, Prosperity & The Law of Attraction andRelationships & The Law of Attraction.
You can visit Kevin's website at www.GetAngryGetHappy.com.
To get your paperback copy of  ANGER MASTERY by Kevin Burk: http://www.amazon.com/Anger-Mastery-Kevin-B-Burk/dp/0975968238
To purchase a copy of ANGER MASTERY at Barnes & Noble: http://www.barnesandnoble.com/w/anger-mastery-kevin-b-burk/1104012568
Buy the book directly from the author at www.GetAngryGetHappy.com
Like Kevin Burk on Facebook: https://www.facebook.com/AngerMastery
ABOUT ANGER MASTERY
Author Kevin B. Burk wants to make you angry. Burk believes that getting angry is the first step to happiness, and his newest book, Anger Mastery: Get Angry, Get Happy shows you how.
"Anger is like fire," says Burk. "When you master it, it's a powerful source of energy. If you don't master it, however, it can be dangerous and destructive." More importantly, Burk asserts, until you master your anger, other people will steal your energy, your power, and your ability to be happy.
The Anger Mastery Process has three phases. In Phase 1, you learn how to use more of your own energy, which makes it harder for other people to steal it from you. (This involves going to the gym at least five times a week.) You also learn how to leave Victim Consciousness and move into integrity by answering the question, "Whose business is it?"
Phase 2 of the Anger Mastery process helps you to stay out of Victim Consciousness by learning how to feel Safe. You meet your Safety Needs with a tool called the Present Moment Awareness Safety Meditation, available for free at www.GetAngryGetHappy.com.
By the time you complete Phase 2, you will already notice significant changes in your life. In particular, you will have considerably more energy. Phase 3 shows you how to use that energy to become truly, completely happy.
Anger Mastery is not your typical book on anger. Not only is Burk's approach unique, but also the book itself is laugh-out-loud funny. "Humor is a powerful tool to shift consciousness," said Burk. "Laughter instantly transforms anger. Plus, funny sells more books."
Watch the Trailer!
~ ~ ~ NOOK 8GB TABLET GIVEAWAY ~ ~ ~
Pump Up Your Book and Kevin Burk are teaming up to give you a chance to win a Nook 8GB Tablet!
Here's how it works:
Each person will enter this giveaway by liking, following, subscribing and tweeting about this giveaway through the Rafflecopter form throughout the tour.
The Nook 8GB Tablet promotion will run from July 2 – August 24. Winner will be chosen randomly by Rafflecopter, contacted by email and announced on August 25, 2012.
Each blogger who participates in the Anger Mastery Virtual Book Tour  is eligible to enter and win.
Visit each blog stop below to gain more entries as the Rafflecopter widget will be placed on each blog for the duration of the tour.
If you would like to participate, email Dorothy at thewriterslife(at)gmail.com. Last day to sign up is July 27. What a great way to not only win this fabulous prize, but to gain followers and comments too! Good luck everyone!
ENTER TO WIN!
CONGRATULATIONS TO MELISSA THAYER!!!  YOU HAVE 48 HOURS TO CLAIM YOUR PRIZE.  EMAIL DOROTHY AT  THEWRITERLSIFE (AT) GMAIL (DOT) COM.  IF WE DO NOT HEAR FROM YOU IN 48 HOURS, ANOTHER WINNER WILL BE DRAWN.  CONGRATULATIONS!

Anger Mastery Virtual Book Publicity Tour Schedule
Monday, July 2
Book Feature at Examiner
Tuesday, July 3
Guest Blogging at Literal Exposure
Thursday, July 5
Book Feature at Book Marketing Buzz
Friday, July 6
Book Feature at My Devotional Thoughts
Monday, July 9
Book Review at Margay Leah Justice Blog
Tuesday, July 10
Book Feature at Celtic Lady's Reviews
Thursday, July 12
Interview at Between the Covers

Friday, July 13
Book Review & Guest Blogging at Books Books and More Books
Monday, July 16
Interview at Beyond the Books
Tuesday, July 17
Interview at Bunny's Reviews
Wednesday, July 18
Book Feature at Book Bloggers Collaborative
Thursday, July 19
Interview at The Writer's Life
Friday, July 20
Book Feature at The Book Loving Busy Mom's Daily
Monday, July 23
Guest Blogging at My Reading Table
Tuesday, July 24
Book Feature at The Road to Here
Thursday, July 26
Guest Blogging at Literarily Speaking
Friday, July 27
Book Review at The Paperback Pursuer Blog
Monday, August 6
Interview at Examiner
Tuesday, August 7
Guest Blogging at Books Books the Magical Fruit
Wednesday, August 8
Guest Blogging at Waiting on Sunday to Drown
Thursday, August 9
Interview at Paperback Writer
Friday, August 10
Guest Blogging at The Book Connection
Monday, August 13
Book Feature at Cafe of Dreams
Tuesday, August 14
Guest Blogging at Writing Daze
Wednesday, August 15
Interview at Broowaha
Thursday, August 16
Interview at Book Marketing Buzz

Friday, August 17
AuthorVid at Literarily Speaking
Tuesday, August 21
Guest Blogging at Coffee and a Keyboard
Wednesday, August 22
Guest Blogging at Lori's Reading Corner
Thursday, August 23
Interview at Review From Here
Friday, August 24
Interview at As the Pages Turn
Kevin Burk's  ANGER MASTERY VIRTUAL BOOK PUBLICITY TOUR will officially begin on July 2 and end on August 24 2012. Please contact Dorothy Thompson at thewriterslife(at)gmail.com if you are interested in hosting and/or reviewing his book. Thank you!

Tags: Anger Mastery, anger therapy, anger therapy book, authors, blog book tour, blog tours, book blog tour, book promotions, book tours, books, Get Angry, get angry book, Kevin B. Burk, law of attraction, nonfiction, nonfiction book, Nook 8GB Tablet, Nook 8GB Tablet giveaway, Nook giveaway, Pump Up Your Book, self-help, self-help book, virtual blog tours, virtual book tours
Trackbacks
Leave a Trackback