Pump Up Your Book Presents The Proxy Assassin Virtual Book Publicity Tour
Authors on Tour
,
Featured
— By
Dorothy Thompson
on November 2, 2012 at 9:18 am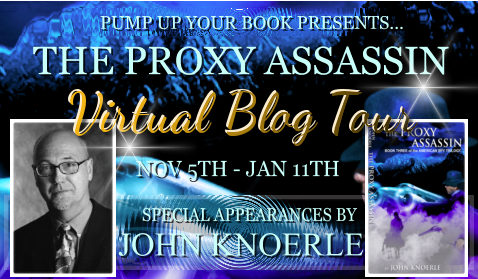 Join John Knoerle, author of spy fiction, The Proxy Assassin: Book Three of the American Spy Trilogy, as he tours the blogosphere November 5 – January 11 on his third virtual book tour with Pump Up Your Book!
ABOUT JOHN KNOERLE
John Knoerle began his creative endeavors in the early 70s as a member of the DeLuxe Radio Theatre, a comedy troupe in Santa Barbara. He then moved to LA and did stand-up comedy, opening for the likes of Jay Leno and Robin Williams.
Knoerle wrote the screenplay Quiet Fire, which starred Karen Black, and the stage play The He-Man Woman Hater's Club, an LA Time's Critic's Choice. He also worked as a staff writer for Garrison Keillor's A Prairie Home Companion.
Knoerle moved to Chicago in 1996 with his wife Judie. His first novel, "Crystal Meth Cowboys," was optioned by Fox TV. His second novel, "The Violin Player," won the Mayhaven Award for Fiction.
John Knoerle's novel, A Pure Double Cross, was the first volume of a late 40s spy trilogy featuring former OSS agent Hal Schroeder. The second volume, A Despicable Profession, was published in 2010. Knoerle's latest book, The Proxy Assassin, Book Three of the American Spy Trilogy, has just been released.
Visit his website at www.johnknoerle.com.
Stalk John!
BUY ONLINE
ABOUT THE PROXY ASSASSIN
October, 1948. Former OSS agent Hal Schroeder gets invited to Washington D.C. by Frank Wisner, who heads the CIA's new covert ops division. Hal is whisked off to Wisner's Maryland shore retreat and introduced to a brace of Romanian royals, including the scarily beautiful Princess Stela Varadja, a direct descendant of Vlad Tepes Draculea.
Then Frank Wisner pops the question. Would Hal consider parachuting into a remote mountain camp to meet with the leader of a group of Romanian anti-Communist guerillas?
"I had already survived two previous suicide missions and a third did not appeal. But I told Frank Wisner I would need a few days to think it over. I had some sightseeing to do."
As it turns out Hal Schroeder gets to do a lot more sightseeing than he bargained for. A journey that brings the American Spy Trilogy to a surprising, and emotional, conclusion.

The Proxy Assassin Virtual Book Publicity Tour Schedule
Monday, November 5
Guest Blogging at The Writer's Life
Tuesday, November 6
Interview at Literarily Speaking
Wednesday, November 7
Book Feature at Celtic Lady's Reviews
Thursday, November 8
Guest Blogging at Lori's Reading Corner
Friday, November 9
Book Review at Inside BJ's Head
Monday, November 12
Guest Blogging at The Story  Behind the Book
Tuesday, November 13
Guest Blogging at Talisman Book Publishing
Wednesday, November 14
Interview at Books Books the Magical Fruit
Thursday, November 15
Interview at Between the Covers
Friday, November 16
Interview at The Dark Phantom
Monday, November 19
Interview at Beyond the Books
Tuesday, November 20
Character Interview at Beyond the Books
Wednesday, November 21
Book Feature at Book Marketing Buzz
Thursday, November 22
HAPPY THANKSGIVING
Monday, November 26
Guest Blogging at Delphina Reads Too Much
Friday, November 30
Book Review at The Book Connection
Tuesday, December 4
Guest Blogging at Legacy of a Writer
Wednesday, December 5
Read the first chapter at As the Pages Turn
Thursday, December 6
Interview at As the Pages Turn

Friday, December 7
Interview at Paperback Writer
Monday, December 10
Guest Blogging at Literarily Speaking
Wednesday, December 12
Interview at Book Marketing Buzz
Thursday, December 13
Interview at Blogcritics

Friday, December 14
Book Feature at Bluebell Books
Guest Blogging at Literarily Speaking
Wednesday, January 2
Interview at Examiner

Thursday, January 3
Character Dear Reader Letter at Literarily Speaking
Monday, January 7
Guest Blogging at Hollywood Daze
Wednesday, January 9
Guest Blogging at Literal Exposure
Friday, January 11
Interview at Broowaha
John Knoerle's THE PROXY ASSASSIN VIRTUAL BOOK PUBLICITY TOUR will officially begin on November 5 and end on January 11 2013. Please contact Dorothy Thompson at thewriterslife(at)gmail.com if you are interested in hosting and/or reviewing his book. Thank you!

Tags: anti-communists, blog tour, book promotions, book publicity, D.C., historical fiction, John Knoerle, mountain camp, noir, political fiction, Pump Up Your Book, Romanian, spy fiction, spy fiction author, spy novel, The Proxy Assassin, virtual book tour, Washington
Trackbacks
Leave a Trackback