Zumaya Publications Birthday Bash Virtual Tour July 2011
Authors on Tour
,
Featured
— By
Dorothy Thompson
on June 26, 2011 at 4:57 pm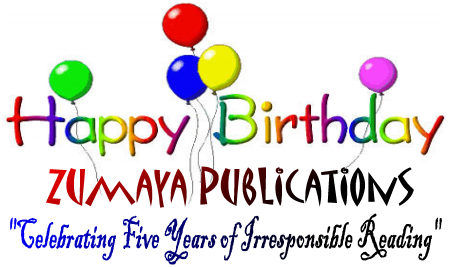 Join Elizabeth Burton and the authors of Zumaya Publications as they tour the blogosphere to celebrate their  fifth year anniversary with a month long birthday bash!  Zumaya Publications is a small press publishing house based in Austin, Texas, and has been the home of many wonderful and talented authors under the direction of the multi-talented publisher, Elizabeth Burton.  Together they are celebrating five years of irresponsible reading with giveaways, chats and more at Pump Up Your Book!
About Zumaya Publications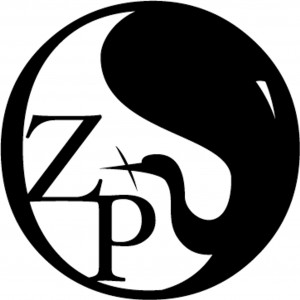 WE SUPPORT IRRESPONSIBLE READING
Zumaya Publications was founded in British Columbia in 1999 by author Diana Kemp-Jones and artist/author Martine Jardin. Their goal was to develop a publishing company that combined the best of the old, traditional methods with the best of the new. For them, this meant developing an internet-based house that utilized print-on-demand technology.
In 2006, Zumaya moved to Austin TX as Zumaya Publications LLC, under the direction of Executive Editor Elizabeth Burton. Over the next three years, Zumaya branched into seven imprints—Arcane, Boundless, Embraces, Enigma, Otherworlds, Thresholds and Yesterdays. In 2009, Marianne and Joyanne Moul replaced Jardin as partners in the company. Plans to implement a graphic novel imprint, Zumaya Fabled Ink, are currently underway as well as a line of artist-designed illustrated classics.
To date, Zumaya has published more than 200 titles in all areas of fiction as well as some superb nonfiction, many of which have won awards. Gideon by Chester Aaron was selected the silver medal winner in the YA-Cultural/Historical category of the Moonbeam Children's Book Awards, The Everdark Gate by Elizabeth Burton received the Dream Realm Award in Fantasy for speculative fiction in ebook format, and Busting Loose: Cancer Survivors Tell You What Your Doctor Won't by Cheryl Swanson received the silver medal in the Living Now Book Awards.
Zumaya Publications is committed to two things: allowing undiscovered talent the opportunity to be heard and moving publishing into the 21st century by actively using and promoting new technologies and business models that have significantly less environmental impact than the traditional one. To accomplish the latter means developing new strategies for marketing and distribution, which are already being studied and implemented. The cost-effectiveness of inventory-free production, eliminating both the need for stocking large numbers of books and the subsequent need to dispose of unsold copies, allows the company to take risks with both new authors and content more often than is feasible for those using traditional methods.
Publishing 20-25 titles annually, Zumaya is one of a new breed of book publisher utilizing up-to-date technology in new ways.
Visit Zumaya Publications at www.zumayapublications.com.
Connect with Zumaya at Facebook at www.facebook.com/pages/Zumaya-Publications-LLC/202820034854!
About Elizabeth Burton
Elizabeth Burton has had four novels and three erotic romance ebook novellas published in the decade since she decided it was past time to pursue her long-postponed career as a
storyteller. After working as a journalist and newspaper editor, she took advantage of a job hiatus to work on fiction, publishing the first novel, Dreams of Darkness, as an ebook in 2000.
She also became a much-in-demand freelance book editor and reviewer, publishing the online review zine The Blue Iris Journal from 1999 to 2003. She was a finalist in the 1999 Writers of
the Future, and is a member of the Fandom Association of Central Texas (FACT) where she is on the board of directors and serves as board secretary, and is co-chair for ArmadilloCon 32,
Austin's oldest literary SF/F convention.
In 2003, she became a partner in Zumaya Publications as executive editor, and in 2009 purchased the company in partnership with her niece while trying–again–to find time to write.
Her most recent novel, The Everdark Gate, was the winner of the 2008 Dream Realm Award for Fantasy.

Zumaya Publications Birthday Bash Virtual Tour Schedule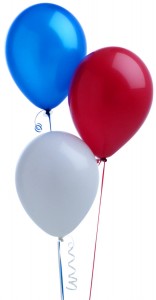 Tuesday, July 5
Elizabeth Burton interviewed at Virgina Beach Publishing Examiner
"I believe we may be one of the few publishers currently using the best of the traditional business model in conjunction with the best of the new technologies. We also, from what I've been told, provide far more marketing support than the majority of the digital presses."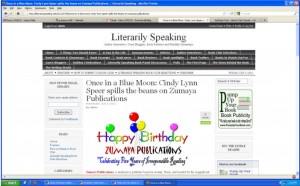 Wednesday, July 6
Zumaya author Cindy Speer guest blogging at Literarily Speaking
"Elizabeth Burton accepted Blue Moon fairly quickly, then, after a few months I submitted the other book, which has just recently come out under another title: Unbalanced. I have had the chance to watch Zumaya change and grow over the years, and I feel proud to be a part of this press. Happy birthday, Zumaya! It's been an amazing ride so far…and I look forward to continuing on it."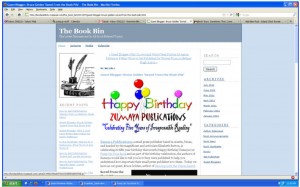 Friday, July 8
Zumaya author Bruce Golden guest blogging at The Book Bin
"I don't know where my books would be today if it wasn't for Zumaya.  I can't say for certain I would have had the motivation to continue to writing them, without Zumaya putting them out there for people to read."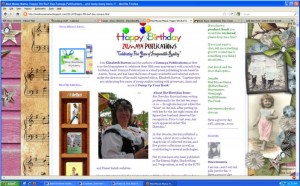 Monday, July 11
Zumaya author Rie Sheridan Rose guest blogging at Mad Moose Mama
"I am so happy to have a book with Zumaya Publications at last. I have wanted to be a part of Zumaya for many years now – even before the current organization took over. "

Tuesday, July 12
Elizabeth Burton interviewed LIVE at Barry 'Storyheart' Eva's A Book and a Chat Radio Show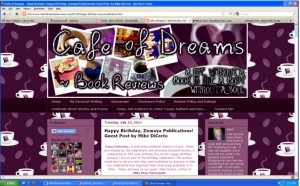 Wednesday, July 13
Zumaya author Mike DiCerto guest blogging at Cafe of Dreams
"I remember a friend asked me "So how much is it costing you to get it published?" I gave him a funny look and explained, "This is not a vanity publisher. THEY pay the expenses. They are a small but REAL publishing house."  "Wow," my friends replied."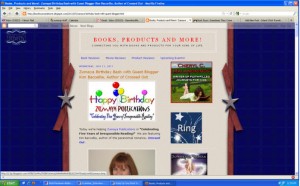 Thursday, July 14
Zumaya Author Kim Baccellia guest blogging at Book Products and More
"I found Liz is very business savvy and works hard for her authors. This is a huge plus for me. I'm glad to be a part of the Zumaya family."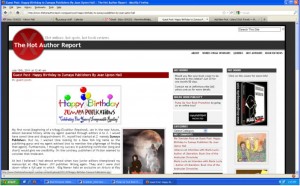 Friday, July 15
Zumaya Author Joan Upton Hall guest blogging at The Hot Author Report
"Imagine my thrill when a real person, Elizabeth Burton, responded to the sample submission with a request to read the entire ms., and subsequently offered me a three-book contract. To my amazement, she then personally shepherded me through the editing process. And WOW was she astute! She actually helped me fine-tune the ms. and transformed it into a print book—and then an e-book."
Monday, July 18
Zumaya author Wendy Dager guest blogging at Literal Exposure
Tuesday, July 19
Zumaya author Gloria Oliver guest blogging at Beyond the Books
Wednesday, July 20
Zumaya author Carole Waterhouse guest blogging at Book Reviews by Molly
Thursday, July 21
Zumaya author Linda Andrews guest blogging at As the Pages Turn
Friday, July 22
Zumaya author M.D. Benoit guest blogging at The Book Connection
Monday, July 25
Zumaya author Dorothy Thompson guest blogging at The Book Faery Reviews
Tuesday, July 26
Elizabeth Burton interviewed at Book Marketing Buzz
Chat with Elizabeth Burton and authors at Pump Up Your Book Live! Zumaya Birthday Bash Chat Party!
Wednesday, July 27
Zumaya author Christine Norris guest blogging at Sharon's Garden of Book Reviews
Thursday, July 28
Zumaya author Joe Donn Martin guest blogging at Pitching Pencils
Friday, July 29
Zumaya authors Jane Toombs and Janet Walters guest blogging at Paperback Writer

If you are a publisher and have a special celebration coming up, email Dorothy Thompson at thewriterslife (at) gmail.com to set up an online tour for you!


Tags: Austin, blog tour, Cindy Speer, Dorothy Thompson, Elizabeth Burton, Gloria Oliver, Linda Andrews, Mike DiCerto, online book promotions, online publicity, online tour, Pump Up Your Book, small press, Texas, virtual tour, Wendy Dager, Zumaya Publications
Trackbacks
Leave a Trackback