Pump Up Your Book Presents Daddy's Home Virtual Book Publicity Tour March/April/May 2012
Authors on Tour
,
Featured
— By
Dorothy Thompson
on January 26, 2012 at 11:28 pm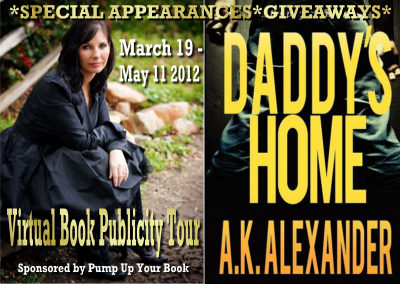 Join A.K. Alexander, author of the thriller novel, Daddy's Home (D'Vine Press), as she virtually tours the blogosphere March 19 – May 11 2012  on her first virtual book tour with Pump Up Your Book!
About A.K. Alexander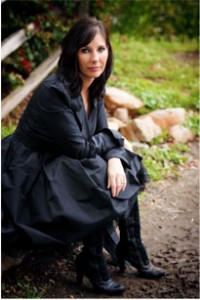 I started writing when I was nine-years-old. I used to write short stories on my dad's notepads. One day he read one and he said to me, "You are a writer." It stuck. My dad is still my biggest supporter and he is also my mentor in many ways. I went to college at The University of Southern California. My parents though didn't think that "creative writing" at USC was a major that would likely be lucrative in the long run, so I figured I would be logical and look at writing in the journalistic field. God (the Universe), etc. had a different plan for me. Soon after I graduated from USC I gave birth to my first son. He was six weeks premature and he had some health issues, which caused me to decide that going into a career at that time would not benefit my son. So, I stayed home with him and I wrote my first book. That first book is tucked away in a box somewhere because it's pretty darn bad, but it gave me the confidence I needed to know that I could start, write, and finish a book. From that point on, it took me twelve years to become a published author and several manuscripts. It has been a wonderful and amazing process, and although many challenges have presented themselves along the way, I have never quit writing. It is my passion!
My other passion is Horses. These amazing animals are very dear to my heart and I have been known to take in "strays." My daughter and I are very active in the horse world. My daughter is involved in pony club and three day eventing.
I enjoy work with other writers when I can , especially kids. I designed a program for young writers to help them learn how to write short stories and picture books to writing complete novellas for older kids. I have mentored several students now and it's a joyful experience to see young writers and their creative minds at work. It is something I am working on expanding with some local teachers in my area.
Family and friends are extremely important to me. I am the proud mother of three amazing kids who have always supported me and are just great, awesome human beings (yes, I know I sound like every mother in the world about their kids, but I really mean it). My husband is my best friend and a very patient man, which is a real positive—he is married to a writer after all. We also have three dogs, a kitty, and eight horses.
When not writing, riding, or being a taxi-cab driver for my youngest, I try to find time to do a little yoga, meditate or cooking. I love cookbooks and cooking!
A.K.'s recent release is Daddy's Home.
You can visit her website at www.michelescott.com/books/ak-alexander.
Website | Blog | Twitter | Facebook | Goodreads | Amazon | Amazon Kindle | Barnes & Noble | Red Room
About Daddy's Home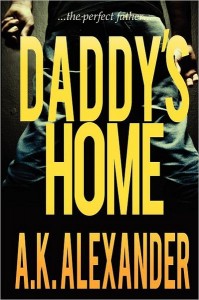 A KILLER STALKS HIS PREY…
A calculating and deadly killer is in search for what he terms as his perfect family. Preying upon single mothers and their innocent children, the police have dubbed him "The Family Man."
HE WATCHES THEM…HE TAKES THEM…
He plays out his role as the perfect father. When things don't go so perfect in his insane fantasy world, the family man kills.
HOLLY JENNINGS IS ON THE CASE…
Crime Scene Investigator Holly Jennings of the San Diego Police Department is determined to track him down and see that justice is served. With Holly being a single mother herself, this man's crimes are deeply personal to her, and turn more so when a friend and her daughter become the latest victims of "The Family Man."
Along with tracking an evil killer, Holly is dealing with her own internal demons. She is raising her daughter Chloe alone after the death of her husband–a death she feels guilty for.
To complicate her life further, Holly is doing her best to avoid possibly falling in love again with charming veterinarian Brendan O'Neil. As Holly delves deeper into solving the murders, she finds herself being sucked into a game of cat and mouse by "The Family Man," that may lead her down a dark path too horrible to bear. One that may cost her gravely-her family, her new found love, and even her life.
Giveaways, Contests & Prizes!
In celebration of A.K.'s new release, she will be giving away one paperback or e-copy of her book, Daddy's Home, to any reader who follows the most blogs. Please leave a comment on those blogs to let us know you have followed them and leave your email address so we can get in touch with you. Also, those readers who sign up on her blog and for her newsletter during the tour will automatically receive sneak previews of books before they are released (up to 50 pages) via PDF!
Daddy's Home Virtual Book Publicity Tour Schedule

Book reviewed at Celtic Lady's Reviews

Thursday, March 22
Book reviewed at Mary's Cup of Tea

Tuesday, March 27
Book reviewed at The Bookish Dame

Monday, April 2
Book Review at Rainy Day Reviews

Tuesday, April 3
Interview & Book Giveaway at Literarily Speaking

Thursday, April 5
Interview at The Book Connection
Book Review at  Booksie's Blog

Friday, April 6
Interview at Pump Up Your Book

Monday, April 9
Interviewed at Book Marketing Buzz

Tuesday, April 10
Guest Blogging at Fantasy Pages

Wednesday, April 11
Interview & Book Giveaway at Cafe of Dreams

Monday, April 16
Interview at Review From Here

Tuesday, April 17
Interview at The Writer's Life

Wednesday, April 18
Interview at The Incessant Droning of a Bored Writer

Thursday, April 19
Book review at Ce-Ce's Garden of Reviews

Friday, April 20
Interview at Blogcritics

Tuesday, May 1
Guest Blogging & Book Review at Jersey Girl Book Reviews

Friday, May 4
Guest Blogging & Book Giveaway at Darlene's Book Nook

Monday, May 7
Book Review at I'd Rather Be Reading at the Beach

Tuesday, May 8
Guest Blogging & Book Giveaway at The Book Faery Reviews
Wednesday, May 9
Book Review at From the TBR Pile

Friday, May 11
Book Review at Sweeping Me
Book Review at The Avid Reader
Book Review at Paranormal Romantic Suspense Reviews
Interview at Examiner

A.K. Alexander's DADDY'S HOME VIRTUAL BOOK PUBLICITY TOUR will officially begin on March 19 and end on May 11 2012. Please contact Dorothy Thompson at thewriterslife(at)gmail.com if you are interested in hosting and/or reviewing her book. Thank you!

Tags: A.K. Alexander, blog tour, book promotions, book publicists, book publicity, book publicity companies, book tour, California, California author, Daddy's Home, deadly killer, evil killer, family man, Jamul, killer, Michele Scott, online book tour, Pump Up Your Book, thriller, thriller author, thriller book, thriller novel, virtual book tour
Trackbacks
Leave a Trackback