Pump Up Your Book Presents Her Frozen Wild Virtual Book Tour March & April 2012
Authors on Tour
,
Featured
— By
Dorothy Thompson
on February 11, 2012 at 12:53 am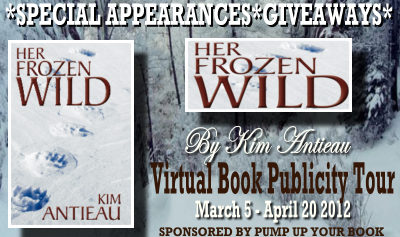 Join Kim Antieau, author of the mainstream action adventure novel, Her Frozen Wild (Green Snake Publishing), as she virtually tours the blogosphere March 5 – April 20 2012 on her first virtual book tour with Pump Up Your Book!
About Kim Antieau
Kim Antieau has written many novels, short stories, poems, and essays. Her work has appeared in numerous publications, both in print and online, including The Magazine of Fantasy and Science Fiction, Asimov's SF, The Clinton Street Quarterly, The Journal of Mythic Arts, EarthFirst!, Alternet, Sage Woman, and Alfred Hitchcock's Mystery Magazine. She was the founder, editor, and publisher of Daughters of Nyx: A Magazine of Goddess Stories, Mythmaking, and Fairy Tales. Her work has twice been short-listed for the Tiptree Award, and has appeared in many Best of the Year anthologies. Critics have admired her "literary fearlessness" and her vivid language and imagination. She has had nine novels published. Her first novel, The Jigsaw Woman, is a modern classic of feminist literature. Kim lives in the Pacific Northwest with her husband, writer Mario Milosevic.
Her latest book is Her Frozen Wild.
Learn more about Kim and her writing at www.kimantieau.com.
Twitter | Facebook | Goodreads | Amazon | Amazon Kindle | Barnes & Noble | Smashwords | LibraryThing
About Her Frozen Wild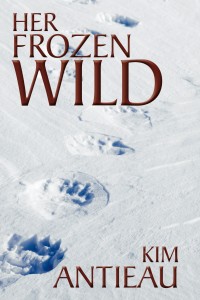 Scientists in the Altai in Siberia uncover the 2,500 year old frozen mummy of a tattooed priestess or shaman. This mummy has the same mtDNA (mitochondrial DNA) as American archaeologist Ursula Smith whose mother disappeared in Siberia 30 years earlier. Ursula travels from the U.S. to Siberia to unravel the mystery of the "lady" and meets Sergei Ivanovich Polyakov, a Russian doctor who graciously invites her into his home. After they become lovers, she discovers he has the same tattoos on his body as the tattooed lady. He tells a disbelieving Ursula that they have met before and she is destined to save the ancient People, considered as devils by some and shape-changing gods by others. A shaman takes Ursula to one of the sacred timeless caves where Ursula's mother supposedly disappeared. When Ursula allows the shaman to tattoo her, she is thrown back in time where she must unlock the mystery of the People and their link to her past in order to save them and Sergei—even if it costs her her life.
Her Frozen Wild Virtual Book Publicity Tour Schedule

Interviewed at The Character Connection

Tuesday, March 6
Guest blogging and book giveaway at Readaholic

Wednesday, March 7
Interviewed at Pump Up Your Book

Thursday, March 8
Guest blogging at Literal Exposure

Friday, March 9
Book reviewed at Book Nook Club

Monday, March 12
Interviewed at Fantasy Pages

Tuesday, March 13
Interviewed at The Hot Author Report

Wednesday, March 14
Guest blogging at Coffee and a Keyboard

Thursday, March 15
Interviewed at Literarily Speaking

Friday, March 16
Interviewed at Blogcritics

Monday, March 19
Guest blogging at As the Pages Turn

Thursday, March 22
Interviewed at Examiner
Book reviewed at Jagged Edge Reviews

Friday, March 23
Interviewed at Divine Caroline

Monday, April 2
Book Giveaway at Books, Products and More

Tuesday, April 3
Interviewed at The Book Connection

Wednesday, April 4
Interviewed & Book Giveaway at Workaday Reads

Thursday, April 5
Interviewed at Review From Here
Interviewed at The Gaian Tarot

Friday, April 6
Interviewed at Beyond the Books

Wednesday, April 11
Guest blogging & book giveaway at The Book Faery Reviews

Thursday, April 12
Interviewed at The Dark Phantom

Friday, April 13
Interviewed at As the Pages Turn

Monday, April 16
Guest blogging at Writing Daze
Interviewed at The Writer's Life

Tuesday, April 17
Interviewed at The Plot Thickens
Book giveaway at Cafe of Dreams

Wednesday, April 18
Guest blogging & book giveaway at Darlene's Book Nook

Thursday, April 19
Interviewed at Pump Up Your Book
Book reviewed at Ce-Ce's Garden of Reviews

Friday, April 20
Guest blogging at Literarily Speaking
Book reviewed at A Bookish Dame

Kim Antieau's HER FROZEN WILD VIRTUAL BOOK PUBLICITY TOUR will officially begin on March 5 and end on April 20 2012. Please contact Dorothy Thompson at thewriterslife(at)gmail.com if you are interested in hosting and/or reviewing her book. Thank you!

Tags: Action, adventure, alchemists, alchemy, Altai, Amazons, American archaeologist, ancient people, archaeology, bears, blog tours, book promotions, book publicity, cave art, forensic archaeology, frozen mummy, Green Snake Publishing, Her Frozen Wild, ice maiden, ice mummies, Kim Antieau, mainstream, mainstream action fiction novel, mainstream book, mainstream fiction, mainstream novel, mtDNA, mummies, online book publicity, Pacific Northwest, pazyryk, Pump Up Your Book, rock art, Russia, sacred geometry, Scythians, sell your book, shaman, shamanic, shamans, shapeshifters, shapeshifting, Siberia, tattoo lady, tattoos, virtual book tours, Washington author, Wu
Trackbacks
Leave a Trackback